Over the last dozen years we've witnessed events in America and around the world that have proven one thing: sometimes, really bad things happen. We've seen thousands die in terrorist attacks on our own soil, residents of an entire U.S. city transformed into refugees almost overnight after, generations of families swept away by Tsunamis, economic and financial collapse that has wiped out decades of retirement savings, millions losing their jobs and forced into the government safety net for survival, and most recently, a nuclear disaster that to this day threatens the health of the population of the entire globe.
One thing's for sure. It pays to prepare, because you just never know when disaster will strike. And the next time it does, you may not be just watching it on television.
The realization that the world in which we live can quickly turn into TEOTWAWKI is one that often yields – and with good reason – emotional responses like stress, anxiety, and panic.
It's this fear that Survival Mom Lisa Bedford has been trying to assuage in the lives of the thousands of individuals who have sought out her preparedness ideas and recommendations for years. We've know Lisa for several years. She has been a good friend to us, our web site and our community through her regular contributions, as well as her personal correspondence.  It's always great to bounce ideas off of like-minded people, and Lisa has been a great asset and resource for us and countless others.
Whether you're a preparedness novice or pro, a mom or a dad, in panic mode or wondering what all the fuss is about, we recommend you take a look at Lisa's newly released book: Survival Mom. Preparedness can be a daunting task, but with the right guidance and planning you can transform that stress and anxiety into confidence that you can handle anything that comes at you.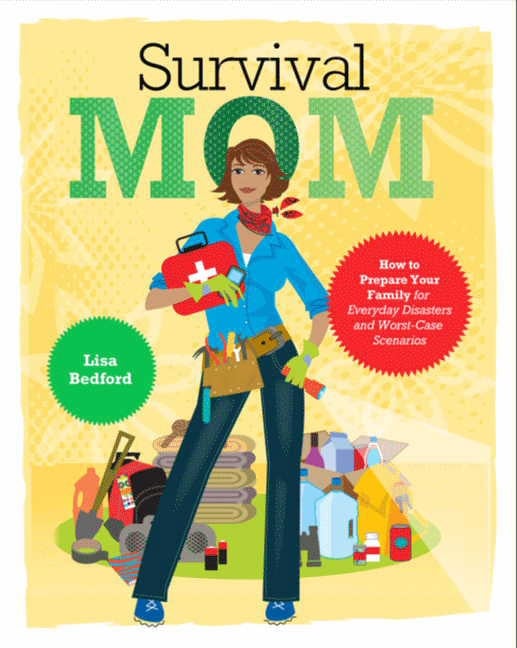 Reviews from around the preparedness community:
"Lisa Bedford has given every family an upbeat and useful step-by-step guide to getting through these alarming times. Hurrah for Survival Mom." (Lew Rockwell, editor, lewrockwell.com )

"This 'stockpiled guide' to self-sufficiency emergency preparedness is a wealth of information for both the novice and seasoned 'survival mom'!" (Roxanne L. Griswold, Co-Owner, Ready Made Resources/Founder, Ready Made Woman Blog + No Candidate )

"Well-referenced, with fresh insights, Survival Mom is funny and well-written." (Don Aslett, author of Is There Life After Housework? )

"Lisa Bedford's book, like her blog, is full of up-to-date, useful information from reputable sources. Survival Mom is a good read, and has a place in any prepper/survivalist library." (Leon Pantenburg, author of survivalcommonsense.com )

"Lisa Bedford explains preparedness not just as a long term goal for the future, but as an everyday lifestyle for today. This manual is a great read for anyone concerned about their own well-being and security, and that of their loved ones." (Paul M. Munsen, President, Sun Ovens International )

"Lisa Bedford's Survival Mom is a much needed resource of practical preparedness and survival knowledge that anybody (even 'Survival Dads') will find an indispensable addition to their self-reliance library!" (Ed Corcoran, Editor, Survivalist Magazine )

"In this impressively comprehensive manual, suburban mom Bedford helps readers learn about, prepare for, and respond to all manner of disasters…Bedford's matter-of-fact yet supportive tone will keep the willies at bay." (Publishers Weekly )

"Given the recent prevalence of floods, tornadoes, and power outages, this book comes at a good time. Bedford… discusses how to handle emergencies, from purifying water and storing food to making lists of financial records and establishing a safe room. [R]eaders… would do well to prepare." (Library Journal )

"Lisa Bedford has written an outstanding book! Survival Mom is chock full of valuable tips and perspectives that had never crossed my mind, showing me how valuable the female perspective is when it comes to prepping and survival! This book is a keeper!" (Matthew Stein, author of When Disaster Strikes: A Comprehensive Guide to Emergency Planning and Crisis Survival )
Book Description:
Everything You Need to Know to Keep Your Family Safe and Secure—No Matter What

Undaunted by the prospect of TEOTWAWKI (The End of the World as We Know It), Lisa Bedford tackles every what-if and worst-case scenario head-on, offering practical advice on how to prepare your family for whatever might come your way. From a few days without electricity to an unexpected job loss or total chaos after the destruction of a tornado, Survival Mom provides everything you need to become self-reliant and establish plans for your family, including:

preparing the home for a natural disaster
alternative sources of energy in a power's-out situation
everything you need to know about food storage
personal protection (do I really need to learn how to shoot a gun?)