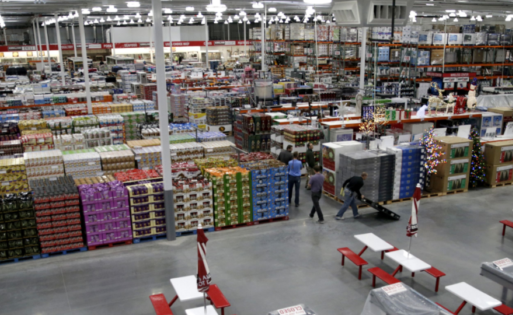 Costco wants to be your one-stop shop for prepping supplies. You know it's about to get serious when even Costco is offering doomsday prepping kits for survival during an apocalyptic scenario.
With the threat of nuclear war, an imminent economic collapse, tyrannical government, and other apocalyptic predictions, Costco stores are now offering a variety of doomsday preparation kits that will keep a family of four fed for a year. This isn't a new endeavor for Costco either.  The company has been selling doomsday prepping kits since at least 2010.
Time reported that the store's kit will include freeze-dried fruits and vegetables, pasta, and other grains. The dried produce carries a shelf-life of 25 years, while the grains can last up to 30. Costco also has smaller doomsday kits geared toward single adults that will also last up to one year. The smaller package will only set you back $1,000.
The increase in prepping supplies sales is a turnaround from recent months. Revenues fell after Donald Trump's election, according to three of the country's larger retailers that specialize in selling emergency preparedness. "The whole industry kind of took a little pause after the election of Trump," said Brandon J. Garrett, director of marketing at The Ready Store, which sells a wide range of prep products online and via catalog. "I think everyone was kind of waiting to see what kind of leader he was going to be and where he would take the country."
"This week, it kind of seemed that everything picked up," he said. Emergency gear has its own retail niche, with preppers attending conventions and manufacturers coming up with even more specialty products. Some in the industry trace its rise to the aftermath of the Hurricane Katrina disaster in New Orleans; others believe it was stoked by those who were concerned about government tyranny after Barack Obama was elected for a second term.
Keith Bansemer, vice president for marketing at My Patriot Supply, which sells bulk food, water devices, and seeds, said customers have started snapping up the company's six-month food supplies. They wanted to do something to feel more secure, he explained. By prepping, "you're actually alleviating fear," Mr. Bansemer said.
With a premade kit, what could make prepping for a SHTF scenario easier? The Prepper's Blueprint offers great advice on how to begin to prepare for any situation you may find yourself in.