Federal Reserve Chairman Mr. Ben The-Sub-Prime-Crisis-Is-Contained Bernanke says that he has confidence in the recovery:
Federal Reserve Chairman Ben Bernanke told Congress Wednesday that he has confidence the unfolding economic recovery will have staying power, although it won't be strong enough to bring quick relief to high unemployment.

…

"Addressing the country's fiscal problems will require difficult choices, but postponing them will only make them more difficult," he warned.

On the economy, Bernanke seemed slightly more optimistic that the fledgling recovery will keep on going after massive government stimulus fades later this year. Incoming economic barometers suggest that growth in demand by consumers and businesses "will be sufficient to promote a moderate economic recovery in coming quarters," he said.

Consumers are spending again after having cut back sharply during the recession. Going forward, consumer spending should be helped by a gradual pick up in jobs, a slow recovery in household wealth from recent lows and some improvement in the ability to get loans, Bernanke said.
Yes, it does seem consumers are spending again…. but where, exactly, is that money coming from?
Several analysts have suggested that consumer spending is being driven by money that should be going towards mortgage payments:
Here's a provocative thought: what if 'extend and pretend' within our nation's troubled mortgage markets is actually providing a lift to consumer spending? It's not as far-fetched as the idea might initially sound, and it might help explain some interesting data we've seen as of late — and it also might explain why the statistical recovery we're seeing now doesn't really feel like a recovery to most Americans.

[source: Housing Wire]
We're talking about roughly 7.4 million loans that are considered 'non-current.' That's a lot of money hitting the economy that otherwise wouldn't be if homeowners were making their monthly payments:
Even if you assume that just half of the current 7.4 million currently delinquent mortgages fit this sort of 'spending profile' (that is, they are spending their mortgage) and you assume a $1,000 median monthly mortgage payment for most U.S. homeowners — you get a $3.7 billion boost per month to consumer spending. It's certainly enough spending to matter in the overall scheme of things.

[Source: CNBC]
What about that improved ability to get loans that Mr. Benrnake says may be responsible for improved consumer spending?
Let's take a look at the Consumer Credit Rate of Change chart, provided by Mr. Denninger at Market Ticker:
Looking at this chart you may see a small uptick in the January 2010 rate of change, so Bernanke is right about that – we are seeing more credit for the consumer. The problem is, for those who haven't noticed, interest rates are going through the roof, and I, for one, am not interested in paying 30% interest rates that will saddle me with debt for the next 20 years, especially in an environment still plagued with uncertainty. If the banks get hit with another crisis (which they likely will) then chances are that those red and blue lines are going to head south yet again. Remember, this crisis was basically caused by a complete collapse of our credit markets, and we are probably not done cleansing out the over leveraged credit system just yet.
In regards to the recovery in household wealth, we caution our readers that we believe he is referring to the stock market and the gains you have seen in your 401k and IRA in the last 12 months. The stock market is currently valuing earnings that are simply conjecture. The GDP has not recovered significantly enough at this point to justify the value of most stocks and you may very well see your household wealth evaporate even more quickly than it has recovered in the last year.
Mr. Bernanke did point out that we still have some problems in housing:
Bernanke said weakness in the housing and commercial real-estate sectors is putting "significant restraints" on the pace of the economic recovery. And, the poor fiscal conditions of many state and local governments have led to continuing cutbacks in workers, another force that will hold back the recovery, he said.
What would happen to our recovery, pray tell, if the the housing and commercial real estate markets went into another free fall? Would that hamper it maybe a little bit?
In our view, this is exactly what is about to happen.
We direct our readers' attention to the following graph, which we have published before when discussing the Second Wave of the Mortgage Meltdown: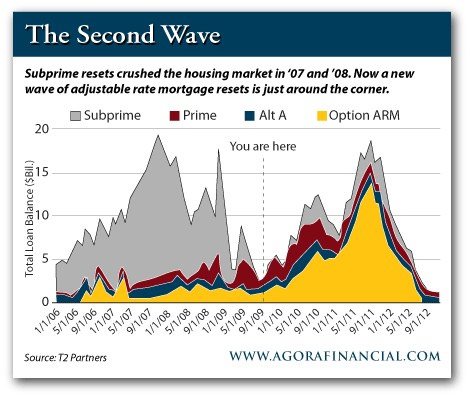 You see that big Mount Everest looking peak in 2011, for which the climb is beginning right about now?
That all but guarantees that any household wealth and recovery in household value which you experienced in the last 12 months is about to be destroyed over the next 2 – 3 years.
Couple that with the fact that there are millions of delinquent mortgages sitting off the books, as evidenced by this recent activity from Bank of America, and you can probably guess what will happen to home values and this recovery.
What we have experienced thus far is merely an intermission, not a recovery.