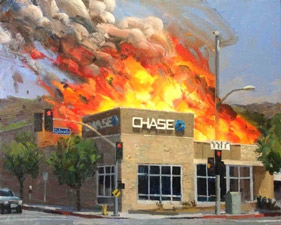 Greg Mannarino of TradersChoice.net, who has previously warned that when the next debt bubble pops millions upon millions of people will die in the fallout, says the reckoning for financial markets is coming… and soon:
I don't know what else you need to see… A lot of people [are asking], "where's the collapse? where's the crisis"

It's happening all over the world… Social unrest, strife, a banking crisis that has no where to go but worse… The chickens are coming home to freaking roost.

You need to take action. It's that simple.

Are world central banks going to continue to try and keep this market up? Absolutely that's what they're going to do, especially because it's an election cycle in the United States… no doubt about it… but that does not mean things are not crumbling around us.

The evidence is overwhelming…

…

I have no doubt that a banking crisis is about to sweep the globe…

We are now existing in economic and financial fantasy land and this has inflated bubbles of magnitudes which are so absolutely distorted and twisted, there's going to be a moment of reckoning.
Mannarino says that Americans should be taking money out of their financial institutions and allocating some of that capital into monetary metals. With the price of gold well below its 2011 highs, now may be a good time to move into this historical safe haven of last resort as a way to protect against the collapse of the economy, financial markets and global monetary system.
Watch his full critical video update: