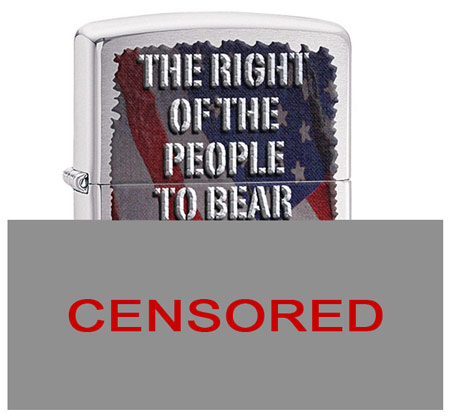 While not necessarily earth shattering, the following report sent to us by a reader demonstrates the false patriotism we see across the entire retail sphere.
It's not about celebrating America's exceptionalism or cultural history; it's all about the dollars.
A quick search for Zippo brand lighters at the Sears web site shows a variety of results that include lighters with American flags, Bald eagles, the United States Marine Corps, and even "American Pride."
But apparently that pride and Patriotism don't extend to the actual laws that have governed our land for nearly a quarter of a millennium , the second of which preserves the right of all Americans to bear arms.
As you'll notice from the screenshot below, the lighter's decal cuts off just perfectly enough to be politically correct:
"The Right Of The People To Bear…"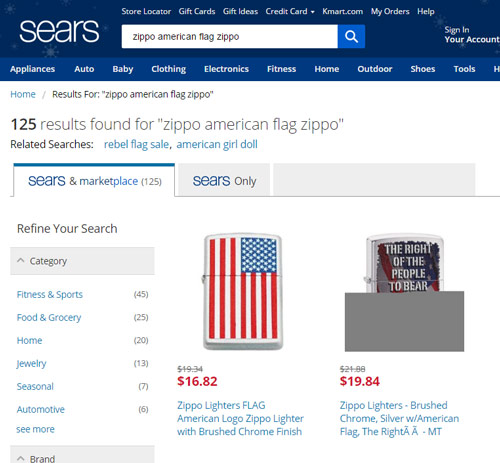 We thought perhaps it was an error… but the product page itself shows a similarly edited image.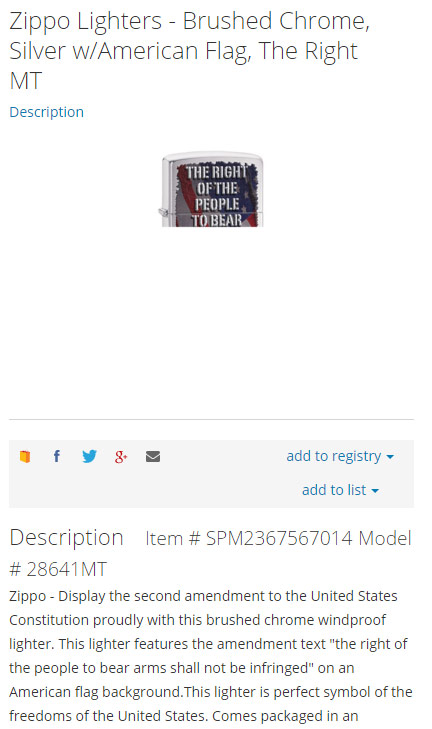 Despite the image censorship, you'll notice the product description provides the full text that is to be displayed on the lighter.
"The right of the people to bear arms shall not be infringed"
We suspect this was a serious oversight by the thought police and someone at corporate needs to be reprimanded immediately.
In any case, for just $19.84 you can proudly display the Second Amendment with this brushed chrome windproof lighter.
"This lighter is perfect symbol of the freedoms of the United States."
Given the current state of affairs in the United States where Constitutional liberties are being supplanted at every turn, especially with respect to the Second Amendment, this may indeed be the perfect symbol for how "freedoms" in America have been redefined in recent years. 
Hattip T.R.
Editor's Note: It appears that the lighter in question is offered for sale on the Sears web site through third-party retailer "USAetail." It is not clear whether the policy of cutting off the text of the Second Amendment is a USAetail policy, or a Sears corporate policy.