Read John W. Whitehead's entire commentary here, on The Rutherford Institute.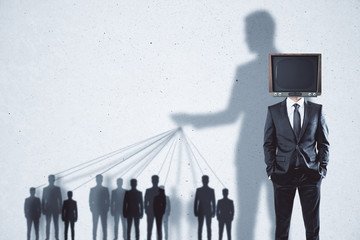 The Orwellian dystopia of thought control and an omnipresent surveillance state has become our reality.  George Orwell's book 1984, although meant as fiction, has turned out to be an incredible prediction of our future.
The "land of the free" hasn't been free since shortly after the American Revolution and it's getting more authoritarian by the day. It's been 70 years since Orwell (dying, beset by fever and bloody coughing fits, and driven to warn against the rise of a society in which rampant abuse of power and mass manipulation are the norm) depicted the ominous rise of ubiquitous technology, fascism, and totalitarianism in 1984.
"You had to live—did live, from habit that became instinct—in the assumption that every sound you made was overheard, and, except in darkness, every movement scrutinized."—George Orwell, 1984 
Much like Orwell's Big Brother in 1984, the government and its corporate spies now watch our every move. Much like Huxley's A Brave New World, we are churning out a society of watchers who "have their liberties taken away from them, but … rather enjoy it, because they [are] distracted from any desire to rebel by propaganda or brainwashing." Much like Atwood's The Handmaid's Tale, the populace is now taught to "know their place and their duties, to understand that they have no real rights but will be protected up to a point if they conform, and to think so poorly of themselves that they will accept their assigned fate and not rebel or run away." – John W. Whitehead, The Rutherford Institute
This world is truly dystopian, and that doesn't just go for the United States.  The masters are brainwashing the slaves and the slaves aren't doing anything about it.  In fact, most want more masters and to be further enslaved.  We are witnessing a wholly disturbing state of humanity right now.
Much like Philip K. Dick's darkly prophetic vision of a dystopian police state (which became the basis for Steven Spielberg's futuristic thriller Minority Report) we are now trapped in a world in which the government is all-seeing, all-knowing, and all-powerful, and if you dare to step out of line, dark-clad police SWAT teams and pre-crime units will crack a few skulls to bring the populace under control. Violence and government dominance rule over the masses and they are completely accepting and willing participants in their own enslavement.
What many fail to realize is that the government is not operating alone. It cannot. The government requires an accomplice. Thus, the increasingly complex security needs of the massive federal government, especially in the areas of defense, surveillance and data management, have been met within the corporate sector, which has shown itself to be a powerful ally that both depends on and feeds the growth of governmental overreach.

In fact, Big Tech wedded to Big Government has become Big Brother, and we are now ruled by the Corporate Elite whose tentacles have spread worldwide. For example, USA Today reports that five years after the 9/11 terrorist attacks, the homeland security business was booming to such an extent that it eclipsed mature enterprises like movie-making and the music industry in annual revenue. This security spending to private corporations such as Google, Amazon, Microsoft, and others is forecast to exceed $1 trillion in the near future.

The government now has at its disposal technological arsenals so sophisticated and invasive as to render any constitutional protections null and void. Spearheaded by the NSA, which has shown itself to care little to nothing for constitutional limits or privacy, the "security/industrial complex"—a marriage of government, military and corporate interests aimed at keeping Americans under constant surveillance—has come to dominate the government and our lives. At three times the size of the CIA, constituting one-third of the intelligence budget and with its own global spy network to boot, the NSA has a long history of spying on Americans, whether or not it has always had the authorization to do so. – John W. Whitehead, The Rutherford Institute
Orwell understood what many Americans, caught up in their partisan flag-waving, are still struggling to come to terms with: that there is no such thing as a government organized for the good of the people. Even the best intentions among those in government inevitably give way to the desire to maintain power and control over the citizenry at all costs.
We know what no one ever seizes power with the intention of relinquishing it. Power is not a means; it is an end. One does not establish a dictatorship in order to safeguard a revolution; one makes the revolution in order to establish the dictatorship. The object of persecution is persecution. The object of torture is torture. The object of power is power. Now you begin to understand me. –George Orwell, 1984
We have been reduced to a cowering citizenry which is rendered mute in the face of elected officials who refuse to represent us, helpless in the face of police brutality, powerless in the face of militarized tactics and technology that treat us like enemy combatants on a battlefield, and naked in the face of government surveillance that sees and hears all. We have nowhere left to go.  We have, so to speak, gone from being a nation where privacy is king to one where nothing is safe from the prying eyes of the government.
We are living in Orwell's dystopian predicted future. John W. Whitehead poses the question: So how do you survive in the American surveillance state?
The truth is that we're running out of options. As Whitehead makes clear in his book Battlefield America: The War on the American People, that we will all soon have to choose between self-indulgence (the bread-and-circus distractions offered up by the news media, politicians, sports conglomerates, entertainment industry, etc.) and self-preservation in the form of renewed vigilance about threats to our freedoms and active engagement in self-governance.
Read John W. Whitehead's entire commentary here, on The Rutherford Institute.