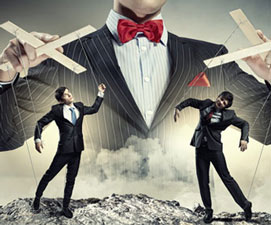 Astute observers of financial markets, especially in the precious metals sector, have long argued that small concentrations of major market players have been manipulating asset prices. Last week those suspicions were confirmed when Deutsche Bank, one of the world's leading financial institutions, not only admitted to regulators that they have been involved in the racket, but that they were prepared to turn over records implicating many of their cohorts in a global scheme to suppress prices.
In his latest interview with SGT Report, straight-shooting Callinex Mines CEO Max Porterfield explains that now that the men behind the curtain are being revealed, asset prices in precious metals, base metals and other commodities will return to more natural pricing mechanisms based on core supply and demand fundamentals.
They are being revealed, most certainly… whether anybody actually takes a fall for it is a whole 'nother discussion in its own right.. It's good someone is being held accountable in some form or fashion and at least we understand what we're dealing with.

… The real world pricing is being seen not only in the precious metals space, but it's being played out in other base metals as well… Underlying all this manipulation is really the supply demand fundamentals for all these commodities…
Full Interview Via SGT Report:
With the genie now out of the bottle, many of the institutions involved in price manipulation and suppression appear to have backed off for fear of multi-billion dollar class action lawsuits from investors. The direct result, as we have seen just in the last couple of weeks, has been upward price movement in gold and silver.
If you start getting some of the manipulation to come out of the market for fear that people are going to get called out on it, then you can allow the fundamentals to play out.
And according to Porterfield, those fundamentals bode very well for gold, silver and base metals investors who have thus far been pillaged by paper market conspirators:
I think this has signified the start of a new bull market… what we've been through, these nice gains… I can tell you right now… I travel frequently to investor hubs in North America and Europe as well… the sentiment is improving quite significantly compared to where it was last November when I was in Zurich where people were very, very negative.

There's more optimism in the space, particularly in the precious metals space… and in the not-too-distant future in the overall base metals space as well.

I think investors should be aware and be prepare for pullbacks in any bull market and I think that's healthy for any kind of bull market you're in… it is a bumpy road no matter what… but there's definitely a lot more upside ahead of us.
We know that during the bear market in gold, silver and other commodities many companies either slowed their operations or completely shut their doors. This reduction in supply, a growing demand for precious metals amid global economic chaos and the official acknowledgment of paper price suppression by at least one major financial institution (and likely many more) suggests that gold and silver prices could rise significantly over coming months and years.
Learn more about CEO Max Porterfield and his company at the Callinex Mines web site.
For more interviews, breaking news, and commentary visit the corporate propaganda antidote at SGTreport.com