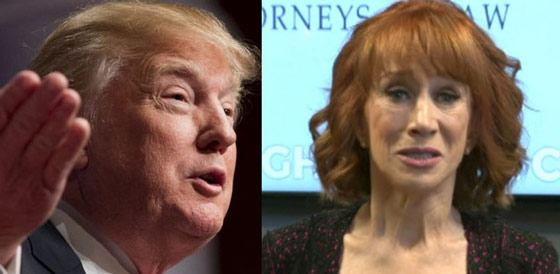 Comedienne Kathy Griffin gave a press conference this morning following the outrage stemming from her recent photo shoot depicting a bloody and beheaded President Trump.
To be clear, we fully support Griffin's right to expression. Despite her insensitive and outrageous "artistic" display, it is this very act that our First Amendment is designed to protect. The First Amendment, however, does not protect Griffin from the consequences of her actions, namely the right of the public to be outraged and to also express their views.
According to Griffin, the mob mentality following her display has led to scores of death threats that are reportedly quite specific.
The death threats I'm getting are constant… and they are detailed… and they are specific.
"This is america, and you shouldn't have to die for it," Kathy Griffin says of death threats she's received https://t.co/T5uqozQu3e pic.twitter.com/6z5wigPMl7

— CBS News (@CBSNews) June 2, 2017
While we can understand Griffin's concerns, we find it ironic that she was surprised at the death threats that came in response to her holding a severed and bloodied head of the President of the United States. 
While it may have been considered art in her mind, the fact is that President Trump has been repeatedly threatened with assassination by personalities on the left, including the New York Times and major European newspapers, and we find it hard to believe that Griffin, deep down, didn't want an end result similar to what she depicted in her photographs.
The reality is, factions on the left leaning political spectrum in America would like to see nothing more.
Do you support Kathy Griffin's right to artistic expression, despite the gruesome nature of her recent images of President Trump?

— The Daily Sheeple (@TheDailySheeple) June 2, 2017
Related:
Creepy CNN Asks: "Who Is Designated Presidential Successor" If Trump Is Killed At Inauguration?
NYT Jokes About Trump Assassination: "Good News I've Figured Out How Trump Campaign Ends"
Media Talking Heads Continue to Call for President Trump's Assassination