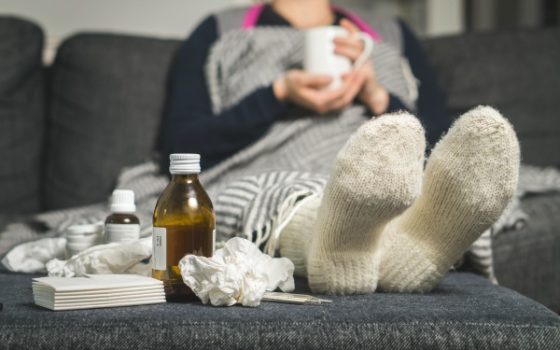 The coronavirus is not "exactly like the flu" although both have similar symptoms. But the differences are important, as are the similarities.
Some of the symptoms of both the seasonal flu and the coronavirus are aches and pains, sore throat, and a fever.  These can also be symptoms of the common cold. They all may feel similar to those suffering from their symptoms, but it's important to note that the novel coronavirus is not the same as the seasonal flu, experts stressed Wednesday.
Prepper Foods and Supplies to Survive Coronavirus Without Leaving the House
COVID-19, the illness caused by the novel coronavirus, proves deadly in around 3.5 percent of confirmed cases. While this is not the same as its mortality rate, given many people may be infected but not realize it, it is significantly higher than seasonal flu, which typically kills 0.1 percent of patients. "There is still considerable uncertainty around the fatality rates of COVID-19 and it likely varies depending on the quality of local healthcare," said Francois Balloux, Professor of Computational Systems Biology at University College London according to Science Alert. "That said, it is around two percent on average, which is about 20 times higher than for the seasonal flu lineages currently in circulation."
Hospitals could easily become overwhelmed with coronavirus patients, especially if several million people end up contracting the virus. Especially considering it's much easier to get the coronavirus than the flu. Disease experts estimate that each COVID-19 sufferer infects between two to 3 others. That's a reproduction rate up to twice as high as seasonal flu, which typically infects 1.3 new people for each patient.
It's making containment difficult, and testing for the virus hasn't been up to par according to health experts.
What is similar, however, is important to note too.  You can prevent both viruses by improving your handwashing, boosting your immune system, and wearing a face mask if you are infected.  Masks can be up to 80% effective if worn correctly.
Prepping For The Coronavirus: Hand Washing Is Vital
Beat the Empty Shelves: Make Your Own Hand Sanitizer
Simple Prepper Hacks To AVOID Getting The Flu
Avoid getting sick and take the appropriate measures to ensure your immune system is in decent shape.  That includes cutting back on alcohol and nicotine and getting a good night's sleep. Eating right can also help your immune system.