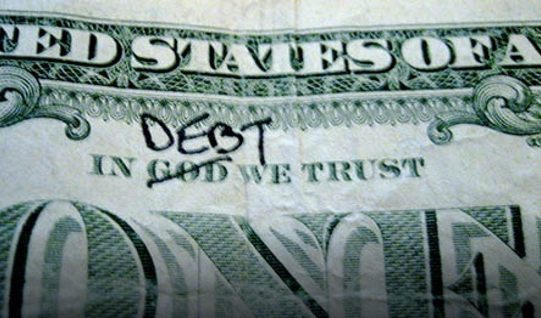 The Federal Reserve has issued a warning that risky corporate debt now exceeds the levels seen at the height of the Great Recession financial crisis about a decade ago. The central bank has said that companies already weighted down with risky debt are borrowing at "breakneck speed."
Loans to companies with large amounts of outstanding debt, known as leveraged lending, grew by 20 percent in 2018 to $1.1 trillion, according to the Fed's twice-annual Financial Stability Report. This corporate debt problem has prompted the Federal Reserve to flag the trend as one potential risk in the financial system. The share of new, large loans that are going to the comparatively risky borrowers now exceeds peak levels reached previously in 2007 and 2014.
This is not the first time the Fed has warned about risky corporate borrowing. The central bank mentioned in its November report that leverage loan standards were deteriorating, and Federal Reserve Bank of Dallas president, Robert Kaplan, wrote in an essay earlier this year that corporate debt could "amplify" any slowdown in United States growth.

"In the next downturn, I think this amount of corporate debt is going to be a burden," Mr. Kaplan said in an interview. –New York Times
The ballooning levels of risky corporate debt have similarities to the mortgage-backed security boom that helped fuel the 2008 financial crisis. However, the central bank report said the situations are a little different. The Fed said the collateralized loan obligations are structured in a more secure way than their housing-backed relatives, and banks should be able to handle their exposure to corporate debt. Regardless, the Fed doesn't sound optimistic about this data nor how the economy could handle a minor ripple effect of the corporate debt bubble deflating. 
"It is hard to know with certainty how today's C.L.O. structures and investors would fare in a prolonged period of stress," the report said. But it is pretty clear that those holding onto debt and owing others money (whether it's individuals or corporations) will see much bigger disaster when the economy finally does spiral out of control.
Central banks [like the Federal Reserve] and international institutions like the IMF have overstepped their traditional mandates by directing the flow of epic sums of fabricated money without any checks or balances. Meanwhile, the open door between private and central banking has ensured endless opportunities for market manipulation and asset bubbles–with government support. –Collusion: How Central Bankers Rigged the World, written by Nomi Prins