The significance of the shift taking place on a geo-political basis to unseat the U.S. dollar as the world's reserve currency cannot be understated. It is, by all means, a complete upending of the financial and economic systems as we have come to know them. According to Keith Neumeyer, the Chairman of First Mining Finance and Chief Executive Officer of First Majestic Silver, the world's purest silver producing mining company, the move is already taking place with countries like China, Russia, Venezuela and Iran already beginning to trade commodities with Yuan, Rubles and gold.
Amid a recent announcement about developments in the gold and silver mining industry discussed in the following interview with SGT Report, Neumeyer, who previously called out, in very public fashion, the manipulation of precious metals by a small concentration of market players, says that the global currency wars currently playing out on the monetary battlefield will lead to significant price increases in the world's most trusted hard assets of last resort.
We're seeing Chinese and Russians trading in gold for oil… there's a real move on a worldwide basis… There is a break coming…

It has to… It's just time… The United States is a very powerful country… it has a very powerful military and they want to keep the system that's in place because a lot of people have made a lot of money in the current system…

I think as the world develops and gets off oil, I think that's going to help facilitate a break from the Petrodollar system…  and everything that's going on in the world is very supportive of much, much higher gold prices… I do contend that silver is going to far exceed the move in gold.
The manipulation of commodities markets by secretive, yet very powerful forces will soon come to an end, and when it does, Neumeyer notes that the price of key assets like oil, gold and silver will be more efficiently priced to reflect their true fair market value:
It's not going to happen overnight… but over several years I think we're going to see better pricing mechanisms come in to the commodity sector and the miners get a better price for what they actually produce…
As for gold and silver, it's a well known fact that these core monetary assets become the only trusted mechanisms of exchange in the midst of currency crises, and this time will be no different.
You've had government officials go visit Fort Knox… You've had talk of gold in the media… that it has been the best performing asset over the last twenty years… and even though we're not seeing it show up in price… not that there's anything wrong with $1300 gold… I still believe gold is substantially undervalued and it should be in the $3000, $4000 or $5000 range if not even higher than that… and those times will come.
Indeed those times will come and may be much closer than most people realize.
In 1988 The Economist magazine warned, with very vivid imagery, that thirty years on a new global currency would rise from the ashes of the U.S. dollar.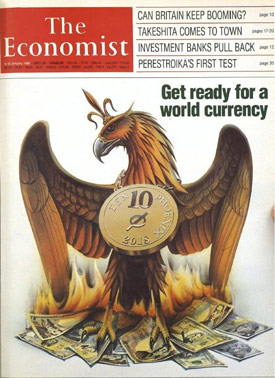 With 2018 quickly approaching and super powers in the East and West positioning themselves to ensure they have a seat at the table, we may soon witness an unprecedented shock to the entire global financial, economic and monetary systems.
Because the fact is, that for a new global currency to rise from the ashes of the U.S. dollar, there will need to be an event, or a set of events, that first has to burn it to the ground.
And, while the dollar burns to the ground and confidence in the system as a whole is shaken to its core, capital will rapidly shift to assets like gold and silver to preserve purchasing power and value.
The full interview with Keith Neumeyer is available at SGT Report