At this juncture . . . the impact on the broader economy and financial markets of the problems in the subprime markets seems likely to be contained.

Ben Bernanke, Federal Reserve Chairman
March 28, 2007
At the latest Federal Open Market Committee (FOMC), Ben Bernanke assuaged fears of a potential government confiscation of depositor holdings in America by suggesting that such an event is "unlikely" to take place.
When asked whether the government of the United States could implement a "depositor tax"  similar to Cyprus, Bernanke downplayed the possibility. Citing depositor insurance programs maintained by the FDIC (Federal Deposit Insurance Corporation), which insures bank accounts up to $250,000 in the event of a bank failure, the Fed Chairman indicated that the crisis taking hold in Cyprus and the Euro Zone poses no risk to the U.S. financial system.
By all expert analysis the situation is contained, just as it was in 2007…
I don't think that the impact has been enormous… we are monitoring very carefully, but at this point we are not seeing major risk to the U.S. financial system or the U.S. economy.

…

I don't think that these issue… have direct implications for the U.S. economy. The only way they would create a problem would be if the runs became contagious… if depositors in other countries lost confidence.

At this point I'm not aware of any evidence that is, in fact, the case.

…

In terms of the United States, the FDIC was founded in 1934 and insured deposits and are very proud of the fact that no one's ever lost a dime in insured deposits…

So, I consider that to be extremely unlikely in the United States.
Of note is that the question posed to Bernanke regarding a "tax" on depositor accounts has nothing to do with FDIC insurance. Are we to believe that should the US government implement a Cyprus style "tax" (aka theft) of personal bank accounts, that the FDIC will then step in to compensate account holders for the loss of that money?
Bernanke's claims are ridiculous.
Not only does the FDIC not insure deposits against government theft, but even if it did, there is not enough money in the insurance program to cover any serious losses. As noted just a few days ago by Zero Hedge, the FDIC currently has $25 billion in reserves available to cover depositor losses, however, some $9,283 Billion dollars are currently on deposit with US banks: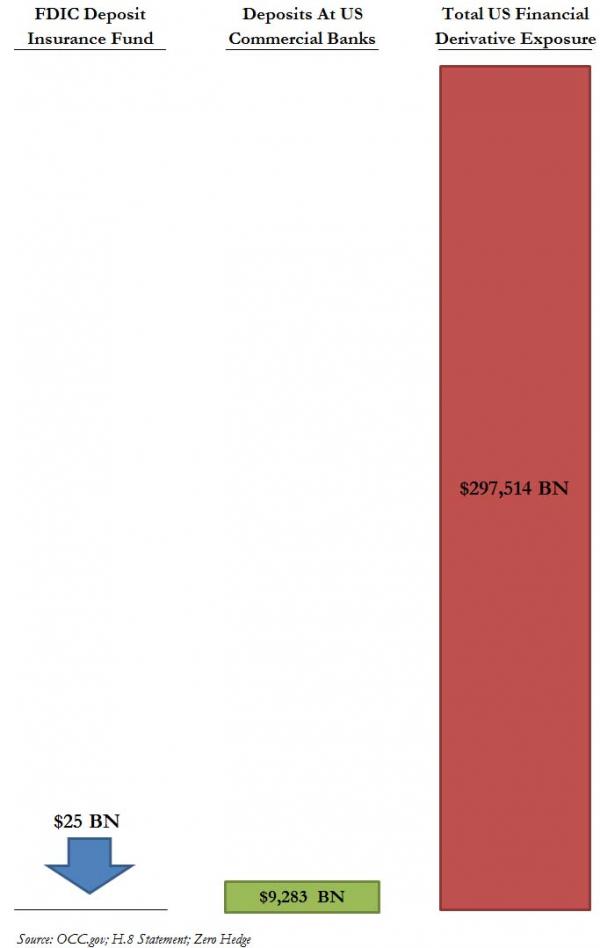 Thus, the notion that the FDIC could cover any sort of serious bank run in the U.S. is laughable.
In any case, according to Bernanke, this can't happen because the situation is contained. There is no mass panic in Cyprus, and there will be no loss of confidence by the people of Europe.
It's contained!
Move along, Doomers.