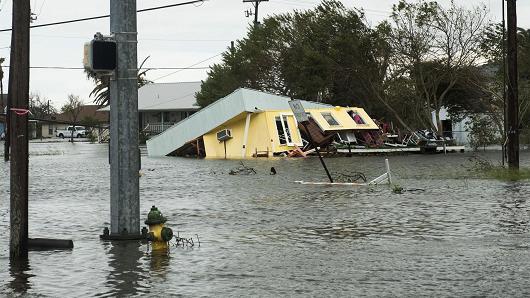 Photo: Flooding in Rockport, Texas in the aftermath of Hurricane Harvey
Residents in Houston need to take precautions, as testing of the flood waters left by Hurricane Harvey came back showing bacteria and toxic matter abundant in the homes devastated by the storm.
It is not clear how far the toxic waters have spread but Fire Chief Samuel Peña of Houston said over the weekend that there had been breaches at numerous waste treatment plants. The Environmental Protection Agency said on Monday that 40 of 1,219 such plants in the area were not working. According to the New York Times, the results of testing have been worrisome.
Water flowing down Briarhills Parkway in the Houston Energy Corridor contained Escherichia coli, a measure of fecal contamination, at a level more than four times that considered safe. In the Clayton Homes public housing development downtown, along the Buffalo Bayou, scientists found what they considered astonishingly high levels of E. coli in standing water in one family's living room — levels 135 times those considered safe — as well as elevated levels of lead, arsenic and other heavy metals in sediment from the floodwaters in the kitchen.- The New York Times
"There's pretty clearly sewage contamination, and it's more concentrated inside the home than outside the home," said Lauren Stadler, an assistant professor of civil and environmental engineering at Rice University who participated in The Times's research. "It suggests to me that conditions inside the home are more ideal for bacteria to grow and concentrate. It's warmer and the water has stagnated for days and days. I know some kids were playing in the floodwater outside those places. That's concerning to me."
Residents and medical professionals are becoming increasingly concerned as well. Many have said they are seeing infections that have more than likely resulted from exposure to the bacteria contaminated floodwaters.
Dr. Beau Briese, an emergency room physician at Houston Methodist Hospital, said he had seen a doubling in the number of cases of cellulitis (reddened bacterial skin infections) since the storm. He said it was a more modest increase than he had expected, and that the infections had been successfully treated with antibiotics.
Dr. David Persse, the chief medical officer of Houston, said that those residents who are caring for children, the elderly, and those with immune disorders should try to keep out of homes until they have been cleaned of the toxins from the flooding. "Everybody has to consider the flood water contaminated," Dr. Persse said. He also warned residents to avoid letting cuts and scrapes come into contact with the floodwaters, which can cause an infection which could require antibiotics to treat.
Forty-nine year old, Brad Greer developed two scabby infections on each one of his legs where his rain boots had irritated his skin. Even though he took antibiotics, he said, he started feeling lightheaded and weak as he and his brother-in-law tried to move possessions from Mr. Greer's flooded home. He went to the emergency room at Houston Methodist, where he was put on an intravenous drip and given another antibiotic prescription. Mr. Greer said swimming pools around his neighborhood are rank. "All the pools are just giant toilets you're unable to flush," he said.
 Many Houston residents appeared unaware of the contamination of the floodwater in their homes while others have reported a disturbing "funky gunk" smell but did not know that the mold and water could be toxic.