Editor's Note: Due to the nature of the secrecy laws surrounding the no-fly list, terror watch list and the master DHS list, it is impossible to accurately estimate the number of people who have been added to the lists thus far, and the  number of people being added daily. This article makes assumptions based on inaccurate information and comes to conclusions that may be considered extreme. The premise of this article, regardless of the legitimacy and credibility of the assumptions and estimations, leads to a conclusion that may very well become reality over the next decade as global security services continue to expand their monitoring and surveillance capabilities.
---
A report from the Washington Post (brought to us via Infowars.com) says that the new official policy for the terrorist watch list is that a single 'credible' tip may deem you unworthy of (air) travel in the United States of America:
Since then [the underwear bombing incident of 2009], senior counterterrorism officials say they have altered their criteria so that a single-source tip, as long as it is deemed credible, can lead to a name being placed on the watch list.

The government's master watch list is one of roughly a dozen lists, or databases, used by counterterrorism officials.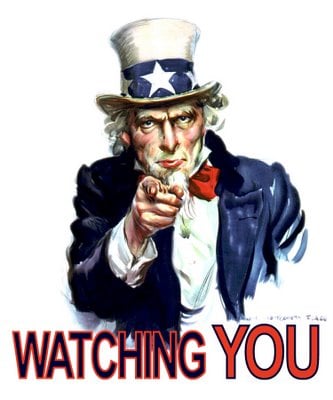 According to the Wall Street Journal, there are roughly 440,000 people on the watch list as of December 2010, though USA Today indicates that over one million names have been added as of 2009. In 2006 the list contained just 71,000 names (which was subsequently corrected to remove errors, ending 2006 with about 34,000). It is not completely clear whether or not the "no-fly" and "terror" watch lists have been merged into one master list, though recent reports suggest Department of Homeland Security has centralized the management of all watch lists.
Nonetheless, the number of individuals being added to what the WSJ refers to as the terrorist watch list, but which may be a combination of the no-fly and terrorist watch lists (confused yet?), has seen an increase of over 1000% over the last four years alone.
This suggests that the number of individuals being added is nearly doubling every year. Based on the following ad-hoc calculations, at this pace the list(s) will grow exponentially over the next decade:
| | |
| --- | --- |
| Number of people added (estimate) | Year |
| 34,000 | 2006 |
| 68,000 | 2007 |
| 136,000 | 2008 |
| 270,000 | 2009 |
| 540,000 | 2010 |
| 1,080,000 | 2011 |
| 2,160,000 | 2012 |
| 4,320,000 | 2013 |
| 8,640,000 | 2014 |
| 17,280,000 | 2015 |
| 34,560,000 | 2016 |
| 69,120,000 | 2017 |
| 138,240,000 | 2018 |
| 276,480,000 | 2019 |
| 552,960,000 | 2020 |
| 1,105,920,000 | 2021 |
| 2,211,840,000 | 2022 |
| 4,423,680,000 | 2023 |

*These are only estimates based on incomplete information due to the secrecy surrounding the no-fly, terrorist, and combined watchlists
At this rate, there will be about 550,000,000 people on the watch list by 2019, which exceeds the population of the United States and then some. By 2023, the watch list will actually exceed the population of the entire earth – at which point one can speculate that the government of the U.S. will restrict all air travel.
Reminiscent of travel in the communist East Bloc of the 1960's to late 1980's, those wishing to travel from one country to another, or even from town to town, will need to be screened, authorized, and issued travel papers by Homeland Security.
Under Soviet style rules, everyone was on the watch list, much like we will be by the end of this decade. It makes sense then, from the perspective of DHS, TSA and other security services, to simply create an Approved Travel List, codenamed the Go-Fly List, which will be used to designate who has been cleared for flight (or bus or train travel).
This would clear up an mystery about whether or not a particular individual is a terrorist, domestic extremist or person-of interest, because everyone would automatically be assumed to be a potential threat. Only those who have received the appropriate travel papers – a domestic or international travel visa – would be allowed access to public and/or private transportation.
We realize that this sounds like an impossibility – the idea that average, everyday Americans would be restricted from travel for no reason at all – but we point out that this is already happening now. Of those one million or so already on the list, there are a host of people who have arguably been added by mistake, including:
Former US Senator Ted Kennedy (Added August 2004) [Link]
Seven Year Old John Anderson (Added 2004, still on list in 2008) [Link]
Actor Mark Ruffalo et. al. related to upcoming documentary "Gasland" (Allegedly Added 2010) [Link, Ruffalo Responds]
A 2007 audit of a sampling that included 105 records on the list as of 2006 found that 38% of the records were innaccurate.
With the new policy changes, however, the question of how the government determines accuracy becomes even more hazy. One 'credible' tip to the FBI or other law enforcement agency is now enough to land you on the list, and anecdotal reports suggest that once you're on, it's virtually impossible to be permanently removed, as seven year old John Anderson's experience shows.
With the introduction of the Department of Homeland Security's See Something, Say Something initiative across every Walmart in the country, as well as other private and public organizations, we will continue to see mega-growth in the watch lists – simple statements that run counter to government policies or opting out of backscatter Homeland Security screenings may be all it takes.
Related reading:
TSA Administrative Directive: Opt-Outters To Be Considered Domestic Extremists [SHTFplan.com]
FBI Agents Earning Career Points Every Time They Put Someone on the Watch List [Infowars.com]
DHS No-Work List Coming to an Employer Near You [SHTFplan.com]

See Something, Say Something – Unless It's About The Government [SHTFplan.com]