On December 30, 2009 we published High probability of wild card terror-strikes, an overview of a Trend Alert from forecaster Gerald Celente. In it, Celente warned of wild-card terror strikes around the world:
As Celente forecast in the Top Trends of 2010 issue of the Trends Journal®, "There's a high probability of wild card terror-strikes with the potential to cripple the global economy."

Oil spikes, market crashes and financial panic will ensue should an attack of 9/11 scale hit the US or any major oil producer. "The cross-border fighting between Saudi Arabia and the Yemeni Houthi rebels is precisely the type of conflict that could destabilize world oil markets.  Should the fighting intensify, the Saudi's risk an attack upon their oil facilities, which could curtail supplies, drive prices higher and seriously damage the already imperiled world economy," said Celente.
This morning we learn that Celente was right on the money, as usual.
Reuters reports on recent arrests in Saudi Arabia:
Top oil exporter Saudi Arabia has arrested scores of militants accused of plotting attacks on oil facilities, in one of the biggest swoops by the kingdom in several years, state media said on Wednesday.

Those arrested included about 50 Saudis and dozens from Yemen, which jumped to the forefront of Western security concerns after a failed December bombing on a U.S.-bound plane claimed by the Yemen-based regional al Qaeda wing, the media said.

The militants were organised in three cells, two of which were planning to attack oil and security facilities in the oil-producing Eastern Province. They included a Yemeni who security officials describe as being a prominent member of al Qaeda.
With oil prices hovering at around $80 and the global economy still walking on thin ice, any significant upset to the system could be the trigger that brings the whole thing down. A major, coordinated attack on oil supplies in Saudi Arabia, Yemen or the Strait of Hormuz could have serious implications for the global economy. With consumers already hurting, a quick jump in oil over $100 could easily send gas prices soaring to the higher end of $3 a gallon, or perhaps even $4 again.
The summer of 2008 saw gas prices at $4 a gallon and we all remember what happened next: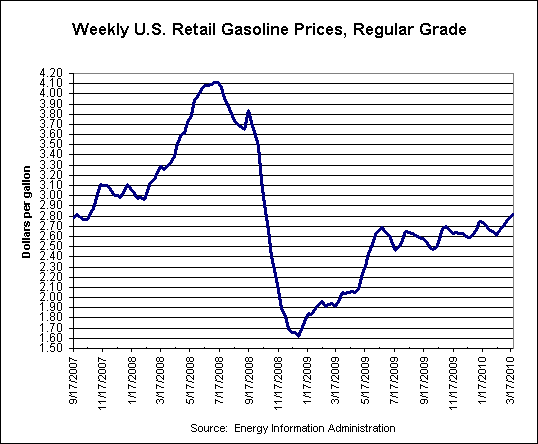 Terrorist organizations around the world don't have to detonate suicide bombs in the USA to cause panic. They just need to do it on top of a major oil pipeline.