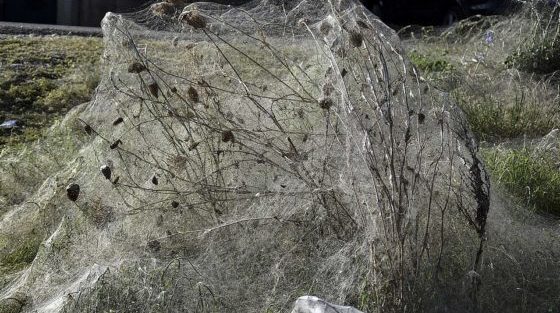 Spiders have descended upon the shoreline of a Greek town, coating it and creating a 100-foot web. This is the stuff nightmares are made of. The enormous spider web is believed to have been created by a genus of spiders known as Tetragnatha.
According to The Daily Mail, the web has snared trees, plants, and rocks thanks to the unusually large number of Tetragnatha spiders contributing to the organic structure. Warm weather and a large number of mosquitoes are thought to be to blame for the booming population of the arachnids, which have swarmed the island to mate. The rise in mosquitoes thanks to moisture in the area has created the perfect storm, so to speak. The spiders feed on the mosquitoes. This phenomenon usually happens towards the end of summer or in the early autumn when the conditions are perfect. It occurs only once every three to five years.
Experts and scientists have said that although this phenomenon is highly unusual, there is nothing to be worried since the spiders will soon perish and the web will vanish naturally. Humans don't have to be fearful, but it's a natural response for many to dislike spiders and the webs they create.
Video footage shot in the western town of Aitoliko shows the webs covering everything from street signs to grass and palm trees in a veil of silk, with what appears to be hundreds of spiders lurking underneath, according to a report by Newsweek.
The spiders themselves are relatively small but are capable of creating the giant web under which they mate. But the arachnids will soon die, reported Newsweek.
This is far from an isolated phenomenon too. In May 2015, spiders rained from the sky in the town of Goulburn and similarly covered an expanse of greenery with cotton candy-like webs. Commenting on what is known as "Angel Hair," spider expert Keith Basterfield told The Goulburn Post that young spiders in the Australian Outback throw threads of spiderwebs into the air in May and August and "use them as a parachute to detach themselves from the ground and move in large colonies through the sky."
"They fly through the sky and then we see these falls of spider webs that look almost as if it's snowing. We see these vast areas of baby spiders, all coming down at once in the late morning or early afternoon," he said.
We're fairly certain that this is a pretty good use for a flamethrower…