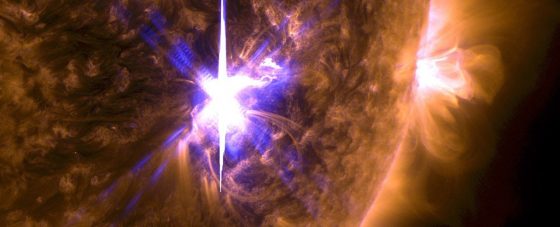 Massive sunspots and enormous solar flares can be responsible for taking out radio communications systems. Some scientists are now saying that the solar storms which have resulted from these recent flares could have been impacting the warning systems that were to let people know about the intensity of Hurricane Irma.
According to Pocono Records, if you still have your solar viewing glasses from the eclipse, now is a good time to consider putting them on and taking a quick look up at the sun. You should be able to see two big dark areas visible on our star. These massive sunspots are regions of intense and complicated magnetic fields that can produce solar flares, which are bursts of high-energy radiation. You can just barely make them out with solar viewing glasses, scientists claim, but these spots are better and more safely viewed through a solar telescope.
These two sunspots are causing a stir among scientists right now too. The solar storms these sunspots have already sent hurtling toward the Earth may affect communications and other technologies like GPS and radio signals. They're already causing amazing displays of the Northern and Southern Lights and space weather scientists are getting excited because they wouldn't normally expect this much activity from the sun at the moment, considering it's nearing solar minimum.
Solar minimum refers to the low and inactive point during the sun's 11-year cycle of solar activity. Even though our sun is heading for it's solar minimum, a time when the sun tends to have fewer sunspots, solar flares, and coronal mass ejections (large expulsions of plasma, electrons, and ions, and magnetic fields) these two sunspots have been flaring and shooting out coronal mass ejections, directly toward Earth and activity on the sun has picked up greatly in the past few days.
All this solar activity has already caused a couple of radiation storms in Earth's high latitude regions that blacked out radio communication at certain frequencies. The impacts extended toward the equator and have affected high-frequency communications, including ham radios, which are used in emergency and disaster relief management. Radio fade-out maps from the Australian Bureau of Meteorology show that high-frequency radio communication disruptions have likely occurred in the same areas being pummeled by Hurricane Irma. –Pocono Record
Meaning these sun spots and solar flares could be responsible for the lack of communication and warnings regarding Hurricane Irma and those living in its path. It is highly likely that a loss of global navigation system satellite communications in those same areas have already occurred, but it will take time for the data to be analyzed before scientists can gain a full understanding of how this space weather activity has affected those on the ground. The radiation storms may also force flights over the polar regions of Earth to reroute to avoid increased radiation exposures for people on board and the potential loss of communication and navigation systems for aircraft on these paths.
Scientists have said that there is no need to worry about this coronal mass ejection being "the big one" – a solar storm direct hit that could cause widespread power blackouts and trigger as much as $2 trillion worth of damage, according to a National Academy of Sciences study. But this storm, on the back of this month's abnormally active space weather, may wind up on the larger end of the scale and will be subject to massive amounts of analysis and research for months to come.