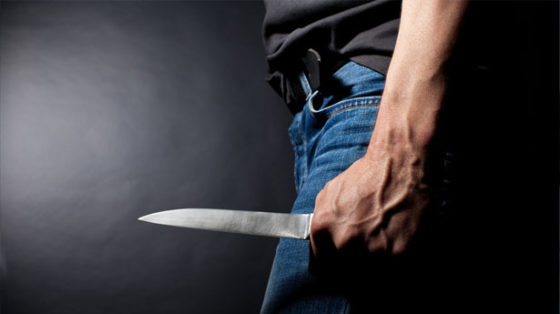 London's violence continues to soar out of control after six teenagers were stabbed in 90 minutes during what's being dubbed the "night of violence" in Great Britain's gun-free capital. As the United Kingdom continues to punish self-defense, the criminals are free to wreak havoc on the city.
Most mainstream media outlets continue to fail to mention that much of United Kingdom is disarmed, and there have been some pretty stringent "knife-control" measures enacted as well to attempt to stop the surge in stabbings.  But none of their laws are helping, as criminals have figured out they are the only ones armed and those who even make an effort to defend their own lives or property will be prosecuted.
These six stabbing incidents come mere days after London's murder rate surpassed New York City's for the first time. At least 55 people have been killed in London in 2018, with over 30 of them dying in stabbing attacks. And with murder still banned, the Mayor of London, Sadiq Khan, insists on more knife control.
"There is never a reason to carry a knife," said Khan. Except for self-defense, a basic human right, since the law disarmed those who obey it.
A 78-year-old homeowner in London has been arrested for "murdering" an armed burglar who attempted to steal from the older man.  The burglar was stabbed in the homeowner's kitchen as a second thief fled, and later died at the hospital.

As violence surges across the pond in London, homeowners have had to take the defense of their lives and property into their own hands – but the UK government is punishing them for it. According to The Daily Mail, a 78-year-old homeowner has been arrested by murder detectives after clashing with a suspected burglar who later died from a stab wound.

Someone should tell those in the governments violating basic fundamental human rights that self-defense is one of those basic human rights. -SHTFPlan
Cressida Dick, the commissioner of London's Metropolitan Police Service, vowed to use "Al Capone" tactics to try and halt the violence, which isn't a surprise coming from any government since they want the monopoly on violence.  But the Mayor continues to focus on punishing those who try to defend themselves while making it harder for them to legally do so.
No excuses: there is never a reason to carry a knife. Anyone who does will be caught, and they will feel the full force of the law. https://t.co/XILUvIFLOW

— Mayor of London, Sadiq Khan (@MayorofLondon) April 8, 2018
The mayor plans to "boost police power" and give "knife wands" to schools to "keep kids safe." Knife wands are nothing more than hand-held metal-detecting wands.  While they may stop a knife from getting in the school, they are useless for anyone to use in a self-defense situation.  The only idea government can ever come up with, is more government.  London is quickly on its way to becoming East Berlin of the early 1940s.
In the last 2000 years of civilization, governments have yet to figure out what the rest of us already know: making it harder for the good people to defend themselves during a massacre (of any kind) won't stop the evil from committing horrific acts of violence against the innocent.