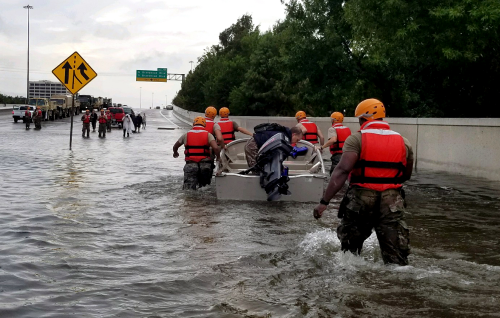 If you look at the situation in Houston right now, it appears that things can't get any worse. Much of the city is flooded, people are stranded in or on their homes, relief efforts are spread thin, and an unknown number of people have died. But you can believe it, the Hurricane Harvey isn't finished yet.
For example, the floodwaters haven't even peaked yet. As the rain continues to pound the Gulf Coast, the flood isn't expected to stop rising until later this week. Two separate dams near Houston are overflowing, and evacuation orders have been issued for people living downstream. And to top it all off, it was reported yesterday that looting is starting to become a problem.
Without a doubt, it's a problem that's getting worse. According to a volunteer rescue organization known as the Cajun Navy, they've been fired upon by looters.
News spread Monday about an apparent incident between members of the Louisiana Cajun Navy and several looters. One of the group members, in a since-deleted Facebook post, said that looters decided to pose as people needing help and attempted to overtake the group's boats. The group said shots were fired at the boats during the incident, but no one was injured.

"Clyde and the other team members and teams are all safe," the group said on Facebook. "I repeat, they are all safe."

The group believes the looters may have not wanted it to perform rescues or were just looking to rob people. One group member said some looters are pretending to need rescuing and then robbing people and other looters are pretending to be rescuers and then robbing people.
But this hardly the only case. During an interview with the media, a volunteer with the Cajun Navy revealed that his people have been shot at on several occasions.
"They're making it difficult for us to rescue them," he said. "You have people rushing the boat. Everyone wants to get in at the same time. They're panicking. Water is rising."

"We have boats being shot at if we're not picking everybody up," Cain told HLN.  "We're having to pull out for a bit."

Cain said people also tried to steal some of their boats after they broke down.

"We're dropping an air boat right now to go rescue a couple of our boats that broke, and they're kind of under attack," he said.

"So what you're telling me is that it's too dangerous to rescue people right now because you're being shot at," the HLN host said incredulously.

"Shot at, overrun … with everyone trying to get in the boat … not following directions," Cain answered dejectedly.
If this is really just the beginning, then it's hard to imagine how bad things might be in Houston by the end of this week.
Related:
"We've Already Arrested A Handful Of Looters": Crime Spree Emerges In Houston In The Wake Of Hurricane Harvey
Here's A Rundown of All the Looting and Robbery Incidents That Occurred During the Oroville Evacuation
Total Breakdown In Less Than 24 Hours: Images and Videos of Missouri Riots and Looting
A Guide to Looting When the SHTF (and Your Counter-Strategies)
Egypt: Vigilante Groups Form to Protect Local Communities Amid Riots, Looting