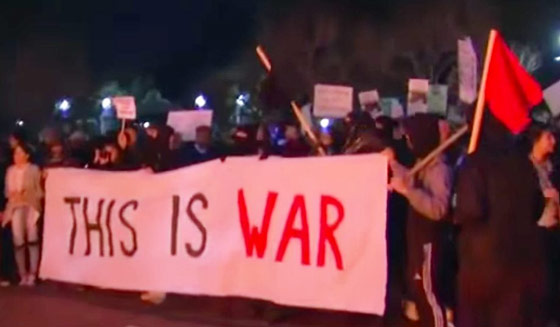 UPDATE: Shooter identified as Bernie Supporter and Hardcore Socialist
As we've reported previously, those on the left have gotten ever more violent. With open displays of beheading and murdering the President to Antifa groups preparing for war by stocking up on weapons and training, it was only a matter of time before things took a turn for the worse.
Today is that day.
A gunman identified as a Bernie Sanders supporter and socialist reportedly targeting Republican members of Congress opened fire with as many as 50-60 shots at a D.C. baseball field wounding at least four people, including House Majority Whip Steve Scalise.
Had it not been for Scalise's security detail, says Senator Rand Paul, it would have been a massacre.
And a massacre is exactly what many on the left wanted to see today, as evidenced by the literal thousands of comments pouring in to social media sites and commenting forums.
We wonder… where could the shooter have possibly gotten the idea to go on a shooting rampage?
I wonder where the shooter got the idea to violently attack GOP…

Alexandria
Rep. Mike Bishop
Steve Scalise
Congressional Baseball Game pic.twitter.com/utKSwIHEsQ

— Mr N (@Mr_Nielsen_5309) June 14, 2017
President Trump has tweeted that Rep. Scalise will make a full recovery:
Rep. Steve Scalise of Louisiana, a true friend and patriot, was badly injured but will fully recover. Our thoughts and prayers are with him.

— Donald J. Trump (@realDonaldTrump) June 14, 2017
And the left immediately pounced, laying blame for the shooting on President Trump, the NRA and Republicans' attempts to reform health care.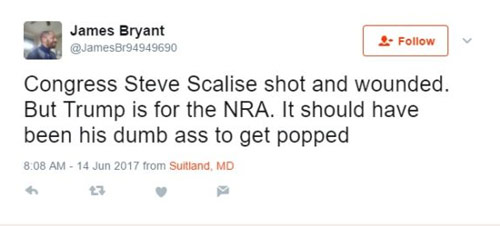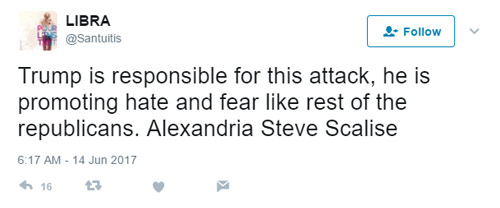 They quickly began celebrating their victory and railing about gun control. The following comments are just a small sampling of the rejoicing on the left and were sourced via ultra-left leaning site Huffington Post: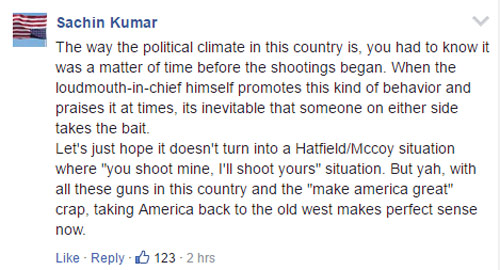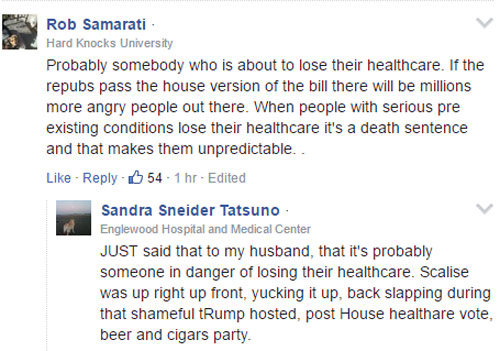 And other left-o-sphere conversations:
If the shooter has a serious health condition then is taking potshots at the GOP house leadership considered self defense?

— Malcolm Harris (@BigMeanInternet) June 14, 2017
Virginia:
No background checks
No licensing
No registration
No permit req'd for concealed carry of long guns
Open carry long guns & handguns

— David Frum (@davidfrum) June 14, 2017
Luckily, more sensible people responded to the vitriol and total disconnection of those on the left from reality:
Fake news @CNN thinks the gun woke up this morning and decided to fire at people all by itself. #SteveScalise pic.twitter.com/WuFQUNRpK9

— Alana Mastrangelo (@ARmastrangelo) June 14, 2017
You along with the rest of #MSM has blood on your hands. Your reporting of #FAKENEWS and anti Trump rhetoric are responsible.

— Pink Lady 4 Trump♥ (@pink_lady56) June 14, 2017
This is the fake media fault for demonizing our President.

— Nurse JoJo (@JoJoOnepsych) June 14, 2017
And a final warning:
It's only the beginning. When their media applauds this aggression towards fellow Americans. There is no winner. Only a loser: America. pic.twitter.com/NQEPfnkbbl

— Democrats for Trump (@YoungDems4Trump) June 14, 2017
Related: There Will Be Blood: Left Prepares For War After Berkeley Beat Down: "Combat Training, Better Equipment, Guns…"