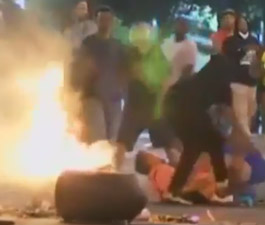 The protests in Charlotte, North Carolina are devolving into exactly what you might expect – total chaos and pandemonium.
From looting to hate-filled violent attacks, the situation continues to deteriorate.
In the following video we see a crowd gathered around a fire presumably started by the protesters. According to WCCB's Twitter report, what we see next is just how far race relations have come under America's first black President.
#WCCB witnessed protesters try to throw still photographer into fire in Uptown #Charlotte. https://t.co/T6i8AH5iGu #CharlotteProtest #news pic.twitter.com/t26WgIlwOh

— WCCB, Charlotte's CW (@WCCBCharlotte) September 22, 2016
Full video (without sound):
The Daily Caller notes:
The photographer in question was white, raising the possibility he may have been targeted by for racial reasons by mostly-black rioters.
You think?
The photographer in this case was lucky that law enforcement officers were only a few yards away, otherwise it could have gone a whole lot worse, as it did for this white male who was begging for mercy as a mob of hoodlums beat him:
#CharlotteProtest Beating man begging for mercy in parking garage. @AC360 @seanhannity @BretBaier Credit:Lenard Bennett (facebook) @ncnaacp pic.twitter.com/YWHEU2UV1n

— Libertarian Queen (@LibertarianQn) September 22, 2016
We're not trying to foment racial division here, but had the situation been reversed and it were a white mob beating a black man senseless, would there be more outrage from the mainstream liberal media?