This report was originally published at ZeroHedge.com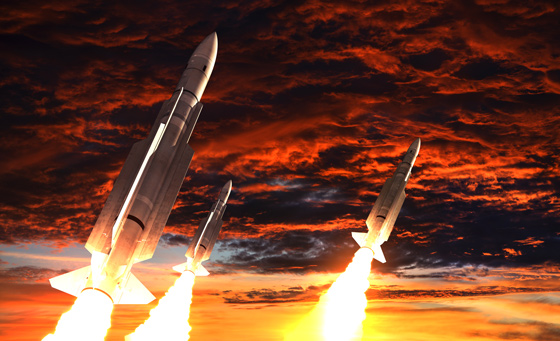 First thing this morning we reported that according to a 500-page report by the Japanese Defense Ministry, North Korea may now be in possession of a miniature nuclear warhead. That said, the report did not move the market because the Japanese report was largely inconclusive and did not claim with certainty that this is the case.
Now, moments ago, the exact same narrative escalated when the WaPo echoed what Japan said, only it now "confirms" that North Korea has successfully produced a miniaturized nuclear warhead that can fit inside its missiles, "crossing a key threshold on the path to becoming a full-fledged nuclear power, U.S. intelligence officials have concluded in a confidential assessment."
As the WaPo adds, the analysis completed last month by the Defense Intelligence Agency comes on the heels of another intelligence assessment that sharply raises the official estimate for the total number of bombs in the communist country's atomic arsenal.
"The IC [intelligence community] assesses North Korea has produced nuclear weapons for ballistic missile delivery, to include delivery by ICBM-class missiles," the assessment states, in an excerpt read to The Washington Post. The assessment's broad conclusions were verified by two U.S. officials familiar with the document. It is not yet known whether the reclusive regime has successfully tested the smaller design, although North Korean officially last year claimed to have done so.
Of course, another vivid instance of "confirmation" of weapons being present, not nuclear so much as of "mass destruction" is the following.
In any case, the U.S. calculated last month that up to 60 nuclear weapons are now controlled by North Korean leader Kim Jong Un. Some independent experts believe the number of bombs is much smaller.
As Jeff Bezos' paper of record adds, the findings are likely to deepen concerns about an evolving North Korean military threat that appears to be advancing far more rapidly than many experts had predicted. The "conclusion" will also accelerate US plans, already in place, to intervene "preemptive" in North Korea, just as the neo-con/warhawks in Washington desire, once again binding Trump in the process.
The WaPo report has certainly impacted the market, well the FX market if not the S&P which just keeps rising as CTAs are buying because other CTAs are buying, and the USDJPY has slumped on the news, revealing the latest divergence between it and the S&P.