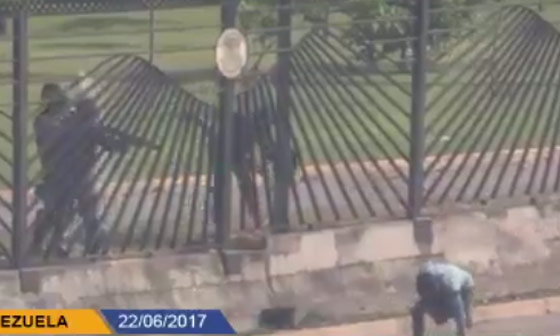 We've repeatedly warned our readers that a collapse of life as we know it in America would quickly devolve into violence, looting and outright anarchy. As the economic landscape in America deteriorates it is likely only a matter of time before millions of starving Americans make their way to the streets in protest. When that happens they'll be met with a heavily armed response. It'll start with tear gas and rubber bullets, but that won't be enough to stave off the starving and hopeless masses, so we can fully expect real bullets to start flying in short order.
To see a real-world example of this one need only turn their attention to Venezuela, where the collapse of their currency has led to hyperinflation to the point that supplies of bare essentials like flour, meat, medicine and toilet paper are unavailable to the general population. The situation has been playing out for several years and it appears to be coming to a head.
As evidenced by the video below, which appeared on Live television, Venezuelan riot police and military are now to the point where they are willing to kill to ensure the security of the State.
As people watched on live TV, a protester hurled rocks over the fence of La Carlota air base in Caracas. His face was covered by a bandanna, and a knapsack was strapped to his chest.

Two soldiers approached, standing just feet away from the riots.

Then, one of the officers pulled out a rifle and fired, striking the activist in the chest. He stumbled off-camera. A few minutes later, a group of people are seen carrying him.

The protester, later identified as 22-year-old David José Vallenilla, died at the hospital. He had been shot in the chest three times. (WaPo)
Caught on tape! Maduro's armed forces shot killed a 22 year old protester in #Venezuela pic.twitter.com/Mf9gbavR1U KenRoth hrw POTUS

— #YoSoyLibertador 97k (@EnkiVzla) June 23, 2017
Should America ever go the way of Venezuela following an economic, financial and/or monetary collapse, this is exactly what we can except, which is why we urge our readers to prepare for the worst by stockpiling, at the very least, survival essentials like emergency foods, water purification tools and personal defense armaments so that you can stay out of the way when the shooting starts.
Related: Letters from Venezuela: This Is What Life Is Really Like in a Post-Collapse Society