Hindsight is making more and more clear that Hillary's outrageously rigged campaign is dependent – heavily dependent – on control over the media.
Nearly every question she has been asked during the past 18 months has been approved and agreed upon ahead of time. Hillary's responses have been heavily scripted and rehearsed.
It even emerged that Donna Brazile, who is a CNN contributor and who was appointed interim chair of the DNC after Debbie Wasserman Schultz was forced out, shared questions that were meant to be spontaneous with the Clinton campaign in advance.
But in this alleged behind-the-scenes account, Donna Brazile becomes the brunt of Hillary Clinton's anger after host Matt Lauer sprung an unapproved question about the email scandal on her.
As analyst Bill Still points out in the video, Hillary's famously furious temper was unleashed after she lost control of the narrative. She can hardly be trusted with the difficult and consequential decision made in the Oval Office:
Check out what Hillary was claimed to have shouted at her staff just after leaving the stage of the forum, as she used and abused her presstitute media relations and her lapdog advisors shaping her entire ascent to power.
According to State of the Nation, who in turn received an anonymous email from who they believe to be an insider at NBC:
Behind the scenes, NBC technicians and cameramen at the Wednesday night, Commander-in-Chief Forum (Sept 7) report that Hillary Clinton was so angry and incensed that she had been  'blind-sided' by one question she was not prepared for and had not approved in advance.

"When her time in front of the cameras ended, Clinton shook the hand Lauer extended to her and smiled once more for the wide camera shot and then Hillary proceeded to pick up a full glass of water and threw it at the face of her assistant and the screaming started. She was in a full meltdown and no one on her staff dared speak with her – she went kind of manic and didn't have any control over herself at that point. How these people work with this woman is amazing to me.

[…]

[Hillary was] screaming at her staff, "you f – – – ing idiots, you were supposed to have this thing set up for me and you've screwed it up!   If that f – – – ing bastard wins we all hang from nooses!   Lauer's finished…and if I lose it's all on you ass – – – – s for screwing this up."

[…]

Since Hillary does not allow any staff to have cell phones when she is in their presence, no footage is available, but Hillary will never let this rest.  She has made it clear that she wants Matt Lauer to be "persona non grata – for putting her on the spot."

Interim DNC chairman Donna Brazile, the first black woman to hold the position, was singled out by Hillary during the rant.   She screamed at Donna, "I'm so sick of your face.   You stare at the wall like a brain dead buffalo, while letting that f – – – ing Lauer get away with this.   What are you good for, really?   Get the f – – – to work  janitoring this mess – do I make myself clear?" 

A female NBC executive said that Donna Brazile looked at Mrs. Clinton and never flinched, which seemed to enrage Hillary all the more.  The executive continued, "It was the most awful and terrible…and racist display – such a profane meltdown I have ever witnessed from anyone,  and I will never forget it.
Hillary reportedly shouted at Donna Brazile about the media 'failure' of allowing real questions to be asked.
"You stare at the wall like a brain dead buffalo, while letting that f – – – ing Lauer get away with this. What are you good for, really?   Get the f – – – to work  janitoring this mess – do I make myself clear?""
This statement makes sense in no other context but one – Donna Brazile's entire role – unofficially – in the campaign centers around coordinating media coverage, and disciplining anyone pretending to be a real journalist in this show election, while handing out treats to good lapdogs. Brazile as a liaison between CNN and the Democratic Party, is functioning like a majority whip in Congress – only no one is supposed to do this.
The source also claimed that Hillary got on the phone with Comcast executives demanding that Matt Lauer be punished and censored, once again supporting the theme of total media control.
One thing is certain, Lauer WAS heavily criticized after the debate in the mainstream media – including by NBC executives – for not challenging Trump's claims more closely.
According to Real Time Politics:
Matt Lauer totally bombed at the NBC Commander-In-Chief Town Hall Wednesday night, and he has received a ton of criticism from fans and critics alike over his clearly biased performance. Now, one report says that his bosses agree with the criticism… several high-ranking sources at NBC News "said they hear the criticism and agree with at least some of it."

Lauer has been widely criticized for not challenging a number of Donald Trump's statements, including his fully debunked claim that he opposed the Iraq War.
USA Today quotes several major papers who trashed Lauer, while noting the NY Times criticism that Lauer focused too much time on the emails:
"Lauer devoted about a third of his time with Mrs. Clinton to questions about her use of a private email server, then seemed to rush through subsequent queries…"
Being this much in bed with the corporate media is a clear problem, but that's how thoroughly corrupt the election has become. Even after lobbying softballs, Matt Lauer supposedly presented a problem for posing ONE real question… WTF?
While this dramatic story is not confirmed, and wasn't caught on video (supposedly all staffers are barred from carrying phones), it is does mesh with plenty of other disturbing and confirmed document leaks showing the the Hillary campaign engages regularly in "planting media stories," and the heavy-handed pro-Hillary coverage is already plain to see for anyone paying attention to the election coverage.
As Zero Hedge reported, Guccifer 2.0 dug out documents that prove the media collusion:
The first revelation comes from a January 2015 strategy document written by Hillary's press secretary, Nick Merrill, about how the campaign should approach reporting on Hillary's decision to run for president.  The memo identifies "Maggie Haberman" of Politico as someone who had a "very good relationship" with the campaign and who had "teed up stories" for Hillary in the past.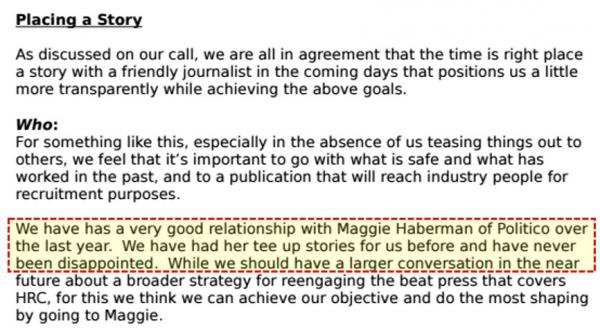 America can never be America with the media operating as a P.R. firm for the worst of the worst in Washington, and yet it goes on and gets worse with each passing day.
With the increasingly important role of suppressing dissent on the web (through algorithms that down-rank flagged political content), this terrible form of censorship is engulfing blogs and websites as well, and those offering sharp criticism often find that their audience and influence have diminished.
What does the future hold for sites like this one? Will we continue to be able to raise questions about Hillary's emails?
If Matt Lauer is skewered for the slightest sign of backbone, what happens to the rest of us?
Read more:
Celente: "Working for the Whore Master": The REAL Reason Why Hillary Gets A Pass in the Media
Evidence Surfaces That "DNC Chair Fed Questions to Hillary Campaign in Advance"
Make No Mistake: "Everyone Who Is Warning About Clinton Is A Target and They Are Marked"
"Media Actively Conspiring With Clinton Campaign" To Cover-up Hillary Major Health Issues
Media Faces Blowback From Clinton Worship: "They Bet the Farm on Hillary… And Lost"