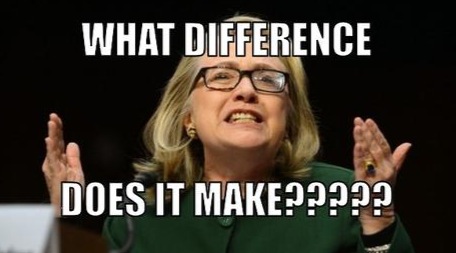 She couldn't possibly care less.
It's not the first time presidential hopeful Hillary Clinton has demonstrated her disregard for dead Americans who became casualties in the bid to dismantle the Middle East.
She laughed at Gaddafi's death, and asked Americans "what difference does it make" about the reason for the death of four Americans in Benghazi.
As Secretary of State, Hillary Clinton was the United States' top diplomat during Obama's first term. She reigned over American foreign policy during the Arab Spring uprisings, and a number of key regime change events, including operations in Libya and Syria.
But it seems that the lives of American soldiers and diplomats, as well as those of its allies, all take a backseat to her plans for a shopping spree.
A newly leaked email from Hillary's personal account reveals her disinterest in the toll of human lives that crops up during the pursuit of radical policies in the Middle East and across the globe.
As this twitter noted, Hillary was literally asking for directions to an upscale gift store in D.C. while Syria was rapidly descending into complete and utter chaos:
Amid chaos in Syria, Hillary Clinton asked for directions to "Washington's premier gift and accessories retailer" pic.twitter.com/uN4DyGLntT

— Tim Mak (@timkmak) November 30, 2015
Western Journalism reported:
In the most recent batch of Hillary Clinton emails released by the State Department, the candidate for the nation's next commander-in-chief appeared to show particular callousness regarding the death of six American soldiers.

Clinton top aide Huma Abedin emailed the then secretary of state in December 2011, informing her of the death of the American soldiers, who were serving in the Middle East. Clinton's response was: "Is Dalton Brody off Conn or Wisconsin?" Dalton Brody is a Washington, DC, gifts and accessories store, which sells such items as leather goods, crystal, and pottery, according to its website.
It appears that the Secretary of State was coldly unaffected by the news, and alarmingly gripped by her personal pursuits. Who indeed would answer the 3 a.m. call?
Here's what was going on during the day when Hillary had little else but shopping on her mind. Via the Associated Press:
6 soldiers among dead; Syria weighing observers (Dec. 18, 2011)


Attacks by Syrian security forces and clashes with gunmen believed to be army defectors continued in Syria Sunday in the latest sign that the nation's uprising may be deteriorating into civil war.

The British-based Syrian Observatory for Human Rights said an army officer was among the six soldiers killed in the town of Qusair in Homs province, near the border with Lebanon.
[…]

Armed clashes erupted in Syria Sunday, killing at least 15 civilians and six government troops, activists said. Isolated and faced with a possible civil war, Syria appeared to be bending toward allowing Arab League observers in as a step toward ending the conflict.

Last month Syria agreed to an Arab League plan but balked at its implementation… The Arab League has given Syria until Wednesday to sign a protocol to allow observers into the country, or else it will likely turn to the U.N. Security Council for action to try to end the deadly violence against regime opponents.
Just imagine how she'll be as president.