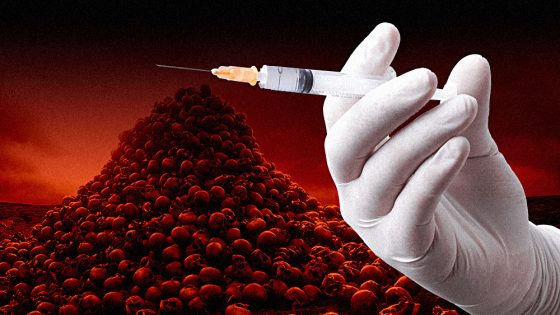 READ THIS LINE THREE TIMES OVER: THERE IS NO SCIENTIFIC WAY TO CREATE A SAFE VACCINE!
In America, vaccinations are monopolized by four companies: Pfizer, Merck, GlaxoSmithKline, and Sanofi. These companies are the biggest LOBBYISTS in Washington.
It's not only the billions they POUR INTO lobbying that's disgusting – it's the media too!
Anderson Cooper is sponsored by Pfizer and NBC nightly news is backed by Merck, for example. The United States is one of only TWO COUNTRIES that allow TV ads about drugs!
There are 72 mandatory vaccinations, so these companies have ZERO COSTS when it comes to advertising vaccines since it's forced upon parents. You cannot sue them, so there are no LEGAL COSTS, and since that's the case, they don't do SAFETY TESTING.
It's the perfect business for them, so it's no wonder Bill and Melinda Gates UNDERSTAND THE POTENTIAL!
This is madness and it has led to a massive rise in autism cases, as well as asthma, food allergies, and chronic diseases.
Vaccines are the most controversial topic in the world right now since these companies are attempting to BRAINWASH THE SHEEP to form a herd and get their shots, even though it has been proven TIME AND AGAIN that vaccines are BULLSHIT!
The World Health Organization, the CDC, the NIH, and other institutions are FOR-PROFIT when it comes to patenting. They have a vested interest in these vaccines, including that sneaky devil Dr. Anthony Fauci.
It is a mistake to believe anything that doctors tell you about vaccines; they're the MESSENGERS of doom and have done no personal research on what they administer!
After doing my own research, these are facts that I uncovered. You may draw different conclusions, but know that there are hundreds of thousands of victims from these vaccines both alive and dead.
I tell you all this because the second any medical company announces that the vaccine is ready, you will be PRESSURED INTO it.
The media will present it as the only solution to this virus, which only impacts specific parts of the population.
Ultimately, you OWN YOUR BODY – it's your property!
Don't let them get you twisted on this matter.
RESEARCH THIS TOPIC!
EXCLUSIVE REPORTS, Featured In This Article and in Others, Which Are Considered ESSENTIAL READING: