The following article was originally published by Joshua Krause at Tess Pennington's ReadyNuitrition.com.
Tess is the author of the highly rated and widely popular The Prepper's Blueprint: A Step-By-Step Guide To Prepare For Any Disaster.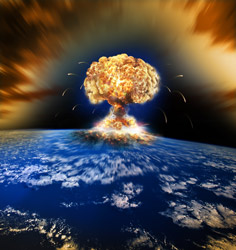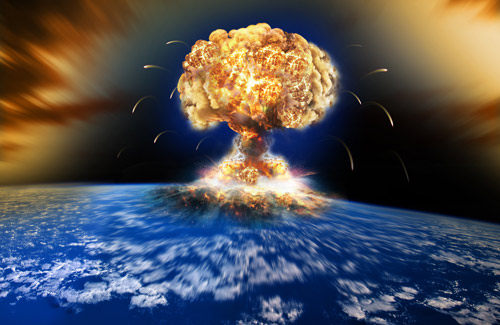 It seems like you can't watch the news anymore without stumbling onto a story that contains terrifying global implications. Not since the Cold War have tensions been so high among the nations of the world. You can strike sparks just about anywhere. The threat of another global war is downright palpable.
Most people shrug at the thought of World War Three, either because they're ignorant or because they don't think there would be any chance of surviving it, so why bother? But preppers know better. Just about anything can be survived under the right conditions and with the right preparations. And when it comes to World War Three, your best chance at survival rests in your ability to see it coming. And to do that, you need only pay attention to world events, and keep an eye on the following places:
Syria
At the moment, this fractured Middle Eastern nation is probably the most likely candidate to spark WW3. You have armed Russian and American aircraft in close proximity to each other at all times, radicalized Islamic extremists battling the Syrian government, Iranian backed Hezbollah units (who happen to be enemies of Israel), Turkish machinations, and Saudi financiers. And let's not forget that all of these actors are in it for themselves, and alliances are constantly shifting. Syria is one hot stew that could boil over at any moment.
Eastern Europe
After the Ukrainian government was ousted by rebels who wanted out of Russia's sphere of influence (and some say with the help of Western governments), Russia annexed Crimea and helped support counter rebels in Eastern Ukraine. And that may not be the end of it. NATO and the EU are constantly trying to wrangle Eastern European nations into their own sphere of influence, and the Russian government feels like it's being encircled by the West. Their only remaining friend in the region is an aging dictator in Belarus who is deeply unpopular. How long before Eastern Europe blows up again is anyone's guess.
East China Sea
The Chinese government claims that this region rightfully belongs to them. Why? Because there's tons of oil there, which mainland China is severely lacking. However, just about every nation on the planet disagrees with their claim, especially their neighbors like Japan, South Korea, and Vietnam, who have fought countless wars against them throughout history. Two of those nations are close allies of the US, and are capable of building nuclear weapons at any time.
North Korea
The only thing propping up the North Korean regime is China, and for good reason. If North Korea ever fell under the influence of the South, then an American ally would be about an eight hour drive away from Beijing. They'll do everything in their power to keep American forces away from their borders. Unfortunately, North Korea is run by the most insane and antagonistic governments on the planet. Any small conflict here could quickly escalate into a global conflagration.
Russia-Chinese Border
These days it seems like Russia and China are real tight. They've been building a military and economic alliance for many years now, as they both view the United States as their biggest threat. However, this is a relationship of convenience and nothing more. In fact, there is a long history of antagonism between the two nations, which came to a head in 1969 when the two nations fought a border dispute.
And there's no doubt that this border dispute could flare up again in the future, and the reason why has to do with the demographics of these nations. On the one hand you have China, which is brimming with people huddled in overpopulated cities, and then you have Russia, which has one of the lowest birth rates in the world. The Russians fear that one day the Chinese will seek to expand their territory into Eastern Siberia, which is sparsely populated, poorly protected, and resource rich. Given those conditions, the lower latitudes of Siberia would certainly be a tempting conquest for densely populated China.
India-Chinese Border
India and China are natural rivals. They're both large, post-colonial nations with over a billion people, and they're both trying to leverage their massive impoverished populations to build their economies. Essentially, they're both vying for the same niche in the global economy; that of a nation with an endless supply of cheap labor. However, there's only room for one at that table.
So it wouldn't be surprising if these two nuclear armed nations came to blows in the future. In fact, they fought a border skirmish back in 1962, which India handily lost. A lot of bad blood still exists between these nations, and they both still argue about the dimensions of their borders.
Kashmir
Most people don't talk or even think about Kashmir anymore, but they should. This region is quiet now, but it's at the center of the single most dangerous border dispute in the world. India and Pakistan fought a war over this territory in 1999, but China has also laid claim to parts of Kashmir. So you have three nuclear armed nations with nearly 3 billion people all vying for this single chunk of land. That should end well right?
And don't forget that Pakistan is on the footsteps of Afghanistan; a nation whose central location in Asia has made it one of the most hotly contested regions in human history. The US is currently struggling to maintain control over Afghanistan, so obviously a war over Kashmir could easily pull us in. After that, it's anyone's guess what happens next.
Joshua Krause was born and raised in the Bay Area. He is a writer and researcher focused on principles of self-sufficiency and liberty at Ready Nutrition. You can follow Joshua's work at our Facebook page or on his personal Twitter.
---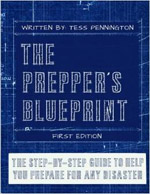 Tess Pennington is the author of The Prepper's Blueprint, a comprehensive guide that uses real-life scenarios to help you prepare for any disaster. Because a crisis rarely stops with a triggering event the aftermath can spiral, having the capacity to cripple our normal ways of life. The well-rounded, multi-layered approach outlined in the Blueprint helps you make sense of a wide array of preparedness concepts through easily digestible action items and supply lists.
Tess is also the author of the highly rated Prepper's Cookbook, which helps you to create a plan for stocking, organizing and maintaining a proper emergency food supply and includes over 300 recipes for nutritious, delicious, life-saving meals. 
Visit her web site at ReadyNutrition.com for an extensive compilation of free information on preparedness, homesteading, and healthy living.
---
Also Read:
Preparing For the Next Attack: How To Survive a Nuclear Meltdown
The Trigger: If This Ever Happens You Know You're Days Away From Nuclear War
Free Web Series: 52 Weeks to Preparedness: An Emergency Preparedness Plan For Surviving Virtually Any Disaster