This article was originally published by Selco at The Organic Prepper
Many times I have mentioned the movie industry as one of the culprits for thousands of misconceptions in the survival world. Some of those misconceptions are really dangerous, and others are funny.
I am sure that when SHTF many people will simply die because what they saw in a movie.
For example, there are gonna be guys who will try to shelter themselves from flying bullets behind car open door, or folks who are gonna try to be faster than bullets.
Or simply, folks will die because of their preconception that good always win.
All this above are not reasons not to watch movies or TV shows, read books or similar. It just can be dangerous to adopt some "techniques" too literally from movies to our prepping world. Try to keep some common sense there.
Movies are usually fun, not a source of serious prepping learning. Daisy's article the other day has a list of movies that are fun for preppers but often show what not to do.
The movies you actually learn from aren't very fun.
Movies that you can learn something from are usually not really fun. When I say "learn" I mean mostly about getting a sense about something, usually not some particular technique or solution.
A perfect example of that kind of movie could be "The Road."
It is one of the most depressing survival movies out there, but it does describe some stuff, and it does "install" that atmosphere of grim in you.
And it is pretty close to reality.
I am not saying we have been cannibals or we gonna be. I am talking here about the atmosphere of hopelessness, tough choices, and finding sense even in what looks like a completely desperate and hopeless new world.
All that without too many cliches.
There is always a reason to live.
We want everything to make sense.
This article was going to be about survival movies, but it looks like it is gonna be more about survival then movies.
There is something in us people that makes us want to find sense in everything, makes us want to categorize events and people around us.
So categories might be good people, bad people, important people, big events, small events, important events… good, bad, love, and hate.
The list can go on and on, you know what I am talking about.
We have the urge to categorize and base our stand and actions based on that. But in real SHTF there is not too much that is bad or good, actually, there are, but without clear boundaries between them. You have good people doing bad things and vice versa.
Events are unfolding in a way that after some time you may find yourself in a situation that you do not know what is good and what is bad. However weird this sounds it is the truth.
I found out on several ocassions, and usually years after, that I trusted in completely the wrong things or people during SHTF.
You can not "catch" all sense in SHTF, and it is normal, you just have to (again) operate in your small circle from day to day.
How does all this have a connection with movies?
Well, you may think it does not, but it does, biggest movies (hits) are usually movies with clear categorisation and boundries between good and evil, love and hate and so on and on.
Movies are fun, yes, but no matter what you may say, they do form our opinions. On some people more on other less, but they do have an influence on us.
Now, survival movies may give us those stupid ideas about being faster than a bullet, or mess up our opinion about what cover is good enough for coming bullets, but they can mess up at a higher level, too.
They can give us an opinion that everything has to make sense.
When SHTF you may easily end up dead looking for that "sense" in everything.
No, there does not have to be any sense in events happening around you when SHTF, and be careful in categorising people and events in good or bad and similar because you might be surprised many times.
Or you might simply end up dead because of poor judgment.
What to do about this?
Nothing.
Movies are a fun industry and if you perceive it like that, and nothing more, we are at the state where movies that are fun and nonsense.
I remember my grandfather seeing a movie about one of the biggest battles in WW2 here (in which he fought, by the way.) The battle was pure carnage, and Germans together with Italians and local Nazis almost destroyed resistence movement. As my grandfather was one of those resistence fighters it was interesting seeing him watching the movie.
It was a big hit here in that time and years after, with actors like Yul Bryner, Anthony Dawson and similar…
My grandfather watch it in silence commenting on Yul Bryner with a bitter voice, "For sure we could have used this mot……ker in that time".
I like movies too
But hey! I ll try not to be grumpy always – movies are fun, i watch them too, why not?
I got a great question from a reader about what movies were realistic about our SHTF in Bosnia.
Since this article was meant to be about a few movie suggestions (but i lost myself on the way) there are few recomandations for watching.
"Lepa Sela Lepo Gore" (Pretty Village Pretty Flame) is a movie from this region about the war that happened here. I admit movie requieres some basic knowledge about "who is who" here, but still, it is a good movie.  It is a movie about survival, not necessarily good and evil because again it is usually all mixed.
And actually, it is a movie that was made based on true event.
Another "local" one that portrays the latest war here pretty accurate is "Nicija Zemlja" (No Man's Land)
Another movie on Daisy's list, Behind Enemy Lines, took place here during our war.
Some great survival movies are not local. One that is actually one of my favourite: "Defiance" is a movie that was already recomended by Daisy a few days ago, but I just have to mentioned it again, because the movie resembles very much my grandfather's stories of how was it in WW2, and I find it a very accurate and good movie.
And one that is a "must see" for many reasons is Schindler's List.
Watch and enjoy but remember movies are fiction.
Many other good movies are out there, most of them are actually on that list in Daisy's article, good movies and movies that are fun.
So yes, enjoy and watch. Just do not try to look for movie solutions when the SHTF.
***
About the Author
Selco survived the Balkan war of the 90s in a city under siege, without electricity, running water, or food distribution. In his online works, he gives an inside view of the reality of survival under the harshest conditions. He reviews what works and what doesn't, tells you the hard lessons he learned, and shares how he prepares today. He never stopped learning about survival and preparedness since the war. Regardless what happens, chances are you will never experience extreme situations as Selco did. But you have the chance to learn from him and how he faced death for months. Read more of Selco's articles here. Buy his PDF books here. Take advantage of a deep and profound insight into his knowledge by signing up for his unrivaled online course. Real survival is not romantic or idealistic. It is brutal, hard and unfair. Let Selco take you into that world.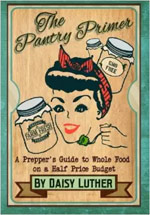 Please feel free to share any information from this article in part or in full, giving credit to the author and including a link to The Organic Prepper and the following bio.
Daisy is a coffee-swigging, gun-toting, homeschooling blogger who writes about current events, preparedness, frugality, and the pursuit of liberty on her websites, The Organic Prepper and DaisyLuther.com She is the author of 4 books and the co-founder of Preppers University, where she teaches intensive preparedness courses in a live online classroom setting. You can follow her on Facebook, Pinterest, and Twitter,.