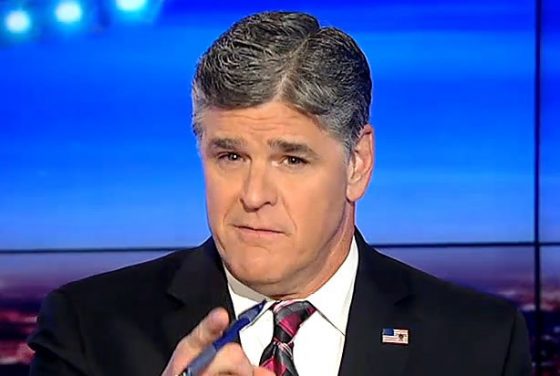 The October ratings released Tuesday showed Fox News Channel's Sean Hannity went head-to-head with MSNBC's Rachel Maddow. And the results? Well, it wasn't even close.
Could it be a "sign of the times" that the nation is slowly becoming more conservative? It's hard to say for certain, but was is definite, is that Hannity dominated cable news, according to the October ratings released Tuesday by Nielsen. Hannity finished the month in first place with 3.2 million total viewers, well ahead of Maddow, who landed in third place overall with 2.5 million total viewers. Fox News' Tucker Carlson took second place with 2.8 million viewers.
Hannity was also up 15 percent compared to the same month last year.
Hannity's rise to first place ends a strong run by The Rachel Maddow Show, which had finished the third quarter of 2017 as the No. 1 show in cable news, the first time any MSNBC show had finished first in the Nielsen ratings for an entire quarter. Fox News' reworked prime-time lineup, which moved Hannity to 9 p.m., meant Hannity and Maddow would compete directly–and so far, Hannity's winning that matchup. –Forbes
Perhaps this is a good sign that the nation is moving away from the communist policies of the left and embracing a more freedom-based dialogue.  Among viewers aged 25-54 (the key demographic coveted by advertisers), Hannity was first, with 686,000 viewers, followed by FNC's Tucker Carlson (581,000) and Maddow (558,000). The Rachel Maddow Show was the highest-rated non-Fox News show on cable, and the only one to break into the top five in the key demo, which included Fox News Tonight in fourth place (468,000) and The Story with Martha MacCallum in fifth (450,000).
Overall, Fox News was dominant in October, beating MSNBC and CNN among total viewers and viewers 25-54. In prime time, Fox News averaged 2.6 million total viewers, well ahead of MSNBC (1.6 million) and CNN (919,000). Among adults 25-54, the race was closer, with the networks finishing in the same order: Fox News (477,000), MSNBC (349,000) and CNN (325,000). –Forbes
This trend isn't likely a fluke either considering how badly Hannity's show throttled Maddow's. Perhaps some people really are concerned with the direction the country is heading.