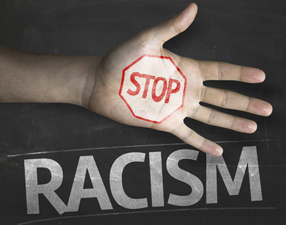 There's no doubt that many wrongs have been done in the name of racism.
But, two wrongs don't make a right.
Reverse racism is no joke for white students who find themselves the target of random violence and intimidation inside schools that are filled with minority students, some of whom are vengeful and hateful against those with a different.
A school district in Long Island, New York settled with a former student – who is white – who sued because the school refused to do anything to stop the racial targeting against him, despite repeated requests for them to do so. Instead, high school years were hellish for Giovanni Micheli.
The New York school district being sued by a white former school pupil for refusing to prevent racially-motivated attacks has agreed to settle out of court rather than go to trial.

The decision by the Long Island Brentwood School District to settle without even posing a defense is being widely interpreted as an attempt to hush up the case to prevent similar legal actions being instituted by other whites.

According to a report in the New York Post, the school district "accused of inadequately addressing a white student's claims of racial harassment as a minority in a predominantly Hispanic and black school"  abruptly settled the case for an undisclosed amount.

As originally reported, pupil Giovanni Micheli was repeatedly attacked, assaulted, and abused for being white in the majority nonwhite school. Repeated requests for help directed to the school authorities by Giovanni and his parents were ignored by the school staff.
According to testimony in the case, Micheli was attacked on numerous occasions for no other reason than the fact that he was one of the few white students at a school that was overwhelmingly black and hispanic.
Worse, the school's administrators refused to address the problem – and do anything to stop the violence – solely because Micheli was a white minority. Requests to be transferred to another school were, ironically, refused on the grounds that they would then have to accommodate requests from other white students.
Seems like there was a big problem… one that has echoed across the entire country.
For years, the media has focused on cherry-picked cases of black victimization at the hands of police, while ignoring many would-be-high-profile cases about roaming gangs of black individuals randomly victimizing white people, or even other blacks, in order to portray an image of racism that suits the narrative.
This video shows a black student beating up his white teacher:
The phenomenon is real, but don't be surprised when you don't see it reported.
Read more:
Brutal Honesty: This Is The Video About Racism They Don't Want You To See
No Whites Allowed: Student Booted From Conference Because Of Skin Color: "Because I was white they would feel unsafe?"
No Evidence: Police Say Video Beating of White Man By Three Black Men Is Not A Hate Crime