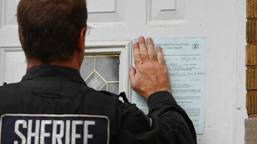 An insider at a major bank tells the Schaef Report that Fannie Mae is one of the few secondary market investors who are refusing to postpone foreclosures while customers are in the midst of a lengthy loan modification process. When customers apply for a mod, the banks who service the loans only give preliminary approvals for a modification – and this can take several months (even up to a year in some cases) – afterward, it is up to the investor to give the final approval on the modification. However, right now Fannie Mae is saying "No" to thousands of people even before their applications have been processed.
WHY IS THIS HAPPENING?
The Industry is Overwhelmed. Banks are simply taking too long to process the applications. No one was prepared for the amount of homeowners who would be applying for modification programs and this is resulting in major bottlenecks on the administrative side. As customers wait to hear back from the bank the loans are not performing and the investor loses money. As the losses get greater over time investors like Fannie Mae are getting impatient and are deciding to foreclose.
The Failure of HAMP. HAMP (the Home Affordable Modification Program) is just one part of President Obama's Making Home Affordable financial stability plan created in February of 2009 to attempt to stop the bleeding in the housing market. Not only does this plan offer modifications, but it also offers refinance options for people who are upside down on their mortgages allowing borrowers to get a loan amount as high as 125% of the appraised value. It is now being widely reported that a high percentage of those who even get their modifications processed through HAMP find that they have only postponed the inevitable and end up defaulting within a year anyway. Perhaps Fannie Mae is just doing the math and figuring it is not worth it to wait for a customer to get a mod just so they can turn around and default again.
Final Thoughts. The issue here is not whether HAMP represent a 'moral hazard' which sends the wrong message to homeowners saying "It's ok that you can't pay your mortgage. The government will rescue you." (some may argue this is true, however). Rather the issue is the perceived hypocrisy involved when a quasi-government organization like Fannie Mae – which is willing to take a bailout from taxpayers – tells its customers to "stick it where the sun don't shine" when they ask for more time to get their modification applications processed.
---
The Schaef Report is an independent newsletter contributed to SHTFplan.com by Mr. A Schaef. You can receive the Schaef Report in your inbox. It's Free! Subscribe below by providing your name and email address and you'll be automatically added to the monthly distribution list. The Schaef Report and SHTFplan.com take your privacy very seriously and will not distribute or share your email address with other parties.
Error: Contact form not found.