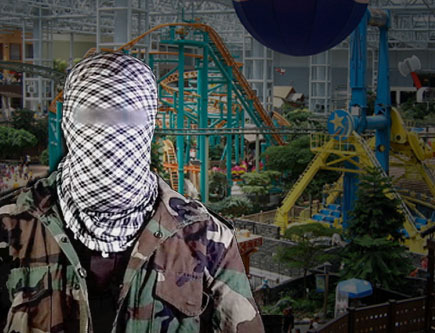 Threat advisories have been circulated about a possible terror attack on the Mall of America in Minnesota.
And now the Somali-based al-Shabaab has announced plans to target shopping centers in the UK, Canada and the United States.
Is there something in the works? Who knows…
Secretary of the Deparment of Homeland Security, Jeh Johnson, has admitted that there actually is no specific threat concerning malls anywhere in the nation, but yet the fear has been sown.
Nevertheless, there may be a threat to America.
Before dispelling that threat, Johnson was actually playing it up:
Homeland Security Secretary Jeh Johnson urged mall visitors to be careful and said he was "very concerned" about the threat.
Johnson said on CNN:
"If anyone is planning to go to the Mall of America today, they've got to be particularly careful. And as the statement you read indicates, there will be enhanced security there that will be apparent… And it's the environment we're in, frankly. And it's all the more reason why I need a budget."
The last statement may be the most revealing… the politics over DHS' budget is very much at play.
The real source of the threats may not be Somalis, but rather from those upset about budget cuts and the flow of big dollars to expensive counter-terrorism programs with an unproven track record.
The Homeland chief sharply warned:
"To even contemplate a shutdown means contemplating cutting back on things that are vital to Homeland Security and causing terrible disruption with the American public right now," Secretary Jeh Johnson warned.

"A shutdown of the Department of Homeland Security in these times is frankly too bitter to contemplate, but we have to contemplate it," Johnson said.
President Obama warned state governors at the National Governors Association– particularly those possibly bidding for the White House – against 'playing politics with Homeland Security funding:
"We can't afford to play politics with our national security."

"They all work in your states," Obama said of the 200,000 Homeland Security employees who would not receive paychecks if Congress fails to reach a deal to fund the department before Saturday.

"These are folks that, if they don't have a paycheck, are not going to be able to spend that money in your states. It will have a direct impact on your economy and it will have a direct impact on America's national security because their hard work helps to keep us safe,"

Republicans in Congress have voted to fund Homeland Security with legislation that guts the president's executive actions that could allow millions of undocumented immigrants to stay in the country legally. Democrats in the Senate refuse to advance the bill, and a stalemate remains with just days to go before DHS runs out of funding.
Most of this is just budget drama, of course. Minor scare tactics.
But what everyone should know, is that last time Congress tried to undermine the budget of Homeland Security, bad things happened.
Remember the sequestration?
Then Secretary of Homeland Security Janet Napolitano issued warnings that furloughs and sequestration of funds to her department would increase wait times at the airport, reduce cargo inspection at ports and cut border patrol staff.
As Infowars reported, Napolitano even issued 'veiled threats' that the budget cuts could leave America vulnerable to a terror attack in February 2013:
Homeland Security chief Janet Napolitano issued veiled threats, claiming that automatic budget cuts, known as sequestration, could trigger new terror attacks by reducing operations funds and delaying processing times ahead of March 1, when cuts begin.

"I'm not here to scare people; I'm here to inform and let people begin to plan," Napolitano stated. "I don't think we can maintain the same level of security at all places around the country with sequester compared to without sequester."
By April 12 – one week before the Boston Marathon bombing – DHS was still under threat of budget cuts, and issued this written testimony to Congress, titled:
"The Impact of Sequestration on Homeland Security: Scare Tactics or Possible Threat?" 
The testimony concluded:
Hurricane Sandy, recent threats surrounding aviation and the continued threat of homegrown terrorism demonstrate how we must remain vigilant and prepared. Threats from terrorism and response and recovery efforts associated with natural disasters will not diminish because of budget cuts to DHS.

Even in this current fiscal climate, we do not have the luxury of making significant reductions to our capabilities without placing our Nation at risk. Rather, we must continue to prepare for, respond to, and recover from evolving threats and disasters – and we require sufficient resources to sustain and adapt our capabilities accordingly.
One can take this at face value and assume that reduced funding makes it easier for the terrorists to attack. Or, one can read between the lines and see the scare tactics that the federal government is willing to embrace to secure funding from Congress and support from a terrified public.
Either way, the threat is real, and that is why we are seeing publicized threats to America's shopping malls – despite the officially admitted absence of a 'credible threat.'
It is worth pointing out that Homeland Security and the controversial TSA passenger screening program have never caught a terrorist. They have never stopped a credible attack before it has occurred.
Despite massive funding and much of the nation's attention, the only attacks that have been thwarted inside the United States have been sting operations set-up and literally organized by the FBI – where suspects where approached, and armed with plans, weapons and cash – and then stopped before they could be carried out.
Be vigilant, and keep in mind ancient Latin wisdom: Quis custodiet ipsos custodes?
Translation: Who watches the watchers?