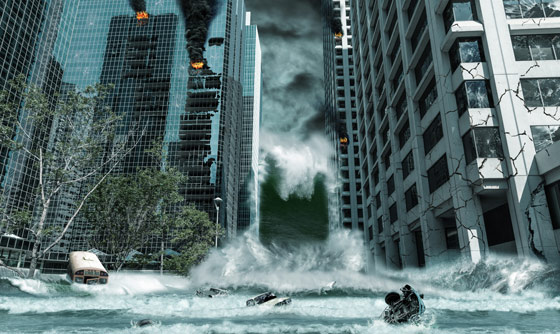 Russian president Vladimir Putin has unveiled a new weapon.  The unmanned underwater Poseidon drone carries nuclear warheads and is capable of creating a 300-foot tsunami that would destroy any coastal city.
In his state of the nation address, Putin proudly touted Russia's newest weapon. During the address to the Federal Assembly on March 1, Putin described a plethora of nuclear weapons he said Russia was developing. But one of these proposed weapons, an autonomous submarine, stood out among the depictions of falling warheads and nuclear-powered cruise missiles.
The Russian government reportedly leaked a diagram of such a weapon in 2015 that suggested it would carry a 50-megaton nuclear bomb about as powerful as Tsar Bomba, the largest nuclear device ever detonated.
The nuclear-powered underwater drone capable of destroying enemy naval bases and causing huge tsunamis is under construction in Russia, according to a state news agency, TASS. The Poseidon will be able to carry a nuclear warhead with a capacity of up to two megatons, a source told TASS.
The drone will have a speed of 60-70 knots and will be operational at a depth of more than 1km. According to the chief naval commander and as reported by the Mirror UK, the trials of the drone's basic element, the small-sized nuclear powerplant, have already been carried out.
 "It will be possible to mount various nuclear charges on the 'torpedo' of the Poseidon multipurpose seaborne system, with the thermonuclear single warhead… to have the maximum capacity of up to 2 megatonnes in TNT equivalent," the source claimed.  With its nuclear munition, the underwater drone "is primarily designed to destroy reinforced naval bases of a potential enemy," the source added.
Rex Richardson, a physicist, told Business Insider: "A well-placed nuclear weapon of yield in the range 20 MT [megatons] to 50 MT near a sea coast could certainly couple enough energy to equal the 2011 tsunami and perhaps much more. "Taking advantage of the rising-sea-floor amplification effect, tsunami waves reaching 100 meters [330 feet] in height are possible."
According to a Kremlin translation (PDF) of Putin's remarks, the Russian president said the autonomous drone would quietly travel to "great depths," move faster than a submarine or boat, "have hardly any vulnerabilities for the enemy to exploit," and "carry massive nuclear ordnance." "It is really fantastic," he said.  "There is simply nothing in the world capable of withstanding them."
Russia's president also claimed that the Poseidon will have "hardly any vulnerabilities" and said it would carry a "massive nuclear ordinance". Russian Navy Commander-in-Chief Sergei Korolyov later said that the new weapon would enable the fleet to accomplish a broad range of missions in waters adjacent to the enemy territory.