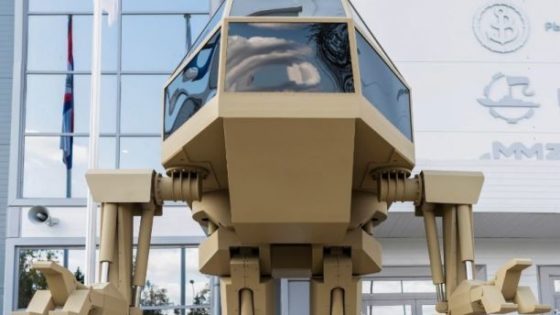 Photo: Kalashnikov Concern
A well-known Russian weapons company has just unveiled it's newest deadly weapon: a golden 13-foot tall killer robot. Kalashnikov Concern presented the large bulletproof robot that's currently in development at the Army 2018 fair near Moscow.
About 1,200 Russian defense companies and weapon manufacturers take part in the Army 2018 event, according to reports by the Daily Mail. Between those companies and manufacturers, there was a whopping display of an estimated 26,000 pieces of weaponry and military equipment. This gold-colored killer robot was one of the most impressive pieces of weaponry displayed at this year's event.
Kalashnikov Concern, who is one of Russia's largest "assault weapons" manufacturers, posted a video about the machine and the technology that went into the design of the odd-looking "Robocop" on its website. According to the weapons company's website: "The promising goal of using the anthropomorphic complex is to solve engineering and combat tasks. The development of technologies will be demonstrated at the next forum."
According to Fox News, the gold robot, which the company calls a "controlled bipedal walker," reportedly weighs 4.5 tons and can hold objects with its claws, those objects could mean this robot could hold weapons. And based on its size, the killer robot could wield any weapon it or its operator chooses. A cabin can be seen behind the robot's glass panels where people could sit and operate it from inside. The gold robot is called Igorek and is still in development. Its creators do not have any desire to reveal all of its features until they have fully completed the soldier robot.
"This robot is probably one of the hottest new models of the 'Army 2018.' Currently, it is only a demonstration of the path we are planning on following," said Vladimir Dmitriev, from Kalashnikov Concern to the Daily Mail. "We understand that there are robotic machines driving on caterpillar and wheel drive, we also understand that there will be demand for anthropomorphic automatic movable systems," he added.