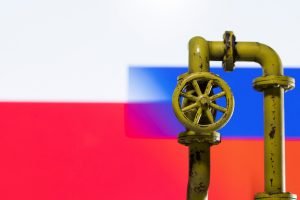 Gazprom, Russia's main natural gas supplier, has announced a complete halt in gas exports to Bulgaria and Poland on Wednesday after the two countries refused to make payments in rubles. Supplying Sofia and Warsaw with gas will resume once the countries agree to pay Russia in Rubles.
The Saint Petersburg-based energy giant also warned that if Bulgaria and Poland start siphoning off Russian transit gas intended for other countries, it will reduce supplies by the amount Sofia and Warsaw have illegally withheld.
In a statement early on Wednesday, the company explained that "as of the end of the working day on 26 April, Gazprom Export had not received ruble payments for gas deliveries in April from the companies 'Bulgargaz' (Bulgaria) and PGNiG (Poland)," as required under President Vladimir Putin's decree dated 31 March. It noted that "payments for gas delivered since 1 April must be made in rubles," and that both companies had been notified of this "in a timely manner." -RT
Poland has so far refused to follow this procedure set forth by Russia and on Tuesday sanctioned Gazprom, which owns a 48% stake in the Polish company that co-owns the Yamal-Europe gas pipeline. The 4,000-kilometer route transports gas from the Yamal Peninsula and western Siberia to Germany and Poland via Belarus. Poland has stated it will no longer buy gas from Russia.
Bulgaria currently has a 10-year contract with Gazprom that is set to expire at the end of this year. The ministry's statement said that Bulgargaz would not finish the contract if it had to pay in rubles, stating that the setup "poses significant risks to Bulgaria." Sofia relies on Russia for around 90% of its gas, with the remainder coming from Azerbaijan, according to a report by RT.
Prepare for higher prices and more fuel shortages. Things are getting a little out of hand, and we should be as prepared as possible for what's looking like the inevitable.