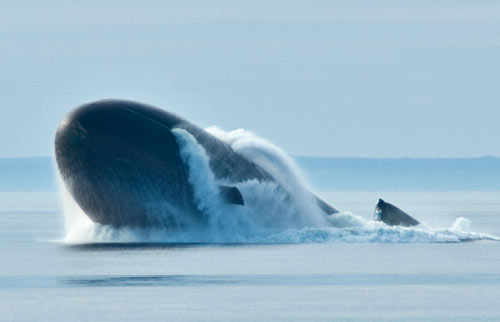 Got nuclear war?
Russia is clearly prepared for it, and ready to send a message to the belligerent American policy hacks who have been continuously egging things on.
With diplomatic ties between the U.S. and Russia at their lowest point since the end of the Cold War, it is difficult not to take notice of how rapidly Putin and his generals are preparing for all-out war.
And they may have it.
Most recently, Russia test-fired three nuclear-capable ballistic missiles – from submarines in the Sea of Okhotsk and the Barents Sea, as well as one from an inland location.
via The International News (Pakistan):
Russian forces fired a nuclear-capable rocket from a Pacific Fleet submarine in the Sea of Okhotsk north of Japan, state-run RIA Novosti reported.

A Topol missile was shot off from a submarine in the Barents Sea, and a third was launched from an inland site in the north-west of the vast country, Russian agencies reported.

The latest display of might by Moscow — which has been conducting regular military drills since ties with the West slumped in 2014 over Ukraine — comes as tensions have shot up in recent days.

Russia has pulled the plug on a series of deals with the US — including a symbolic disarmament pact between the two nuclear powers to dispose of weapons-grade plutonium — as Washington has halted talks on Syria
The message is clear – U.S. misleaders have gone far enough in provoking regard to Syria and Ukraine, and they will defend their interests accordingly. Officially, of course, Russia insists that this activity is merely military training and nothing more.
Unofficially, we have to wonder how much further things will go before it is too late.
Few candidates have ever been so openly-hawkish as Hillary Clinton, and war may be a certainly with either presidential contender.
Russia's foreign minister Sergey Lavrov ribbed the controversy over Trump's "pussy" comments, in turn stating that there are 'so many pussies' among the advisors of both candidates, that he couldn't comment further:
Call it what you will, but it is clear that things have come unhinged in 2016.
Americans have been left cartoonish choices in their 'democratic' elections, while the country loses its grip on world hegemony.
The economy, the dollar and the organizing principles for war are all surfacing as serious – and potentially catastrophic – factors in 2017 and beyond.
Stay vigilant.
Read more:
Russia Conducts "Nuclear Drill" With 40 Million As U.S. Pushes for War in Syria
U.S. Navy Upgrades "SSBN Nuclear Sub Electronic Security" With World War On the Horizon
A Force To Be Reckoned With: China And Russia Are Building Some Seriously Advanced Sea-Based Weapons
Update: "Putin's Favorite Chauffer" Killed In Accident… Exactly As Former CIA Director Described On TV
Expecting War? Russia Conducts "Armored Train Drills For First Time In 15 Years"