In his new book, Former Treasury Secretary Henry Paulson claims Russia Urged China to Dump Fannie, Freddie Bonds:
Russia urged China to dump its Fannie Mae and Freddie Mac bonds in 2008 in a bid to force a bailout of the largest U.S. mortgage-finance companies, former Treasury Secretary Henry Paulson said.

Paulson learned of the "disruptive scheme" while attending the Beijing Summer Olympics, according to his memoir, "On The Brink."

The Russians made a "top-level approach" to the Chinese "that together they might sell big chunks of their GSE holdings to force the U.S. to use its emergency authorities to prop up these companies," Paulson said, referring to the acronym for government sponsored entities. The Chinese declined, he said.

"The report was deeply troubling — heavy selling could create a sudden loss of confidence in the GSEs and shake the capital markets," Paulson wrote. "I waited till I was back home and in a secure environment to inform the president."
It's not that we don't believe Mr. Paulson, it's just that maybe we could have used this information a bit earlier, like maybe when he testified before Congress regarding the financial crisis.
A quick search of the news in August 2008, at the time of the Beijing Olympics, indicates that Mr. Paulson made no mention of this at that time. He returned from Beijing some time around August 16, and on August 19th, according to a Reuters report he refused to answer questions about Fannie Mae and Freddie Mac:
Paulson refused to answer repeated questions about the condition of troubled mortgage finance companies Fannie Mae (FNM.N) and Freddie Mac (FRE.N), which Barron's magazine speculated over the weekend may eventually need a bailout by the Treasury.
We can certainly understand the sensitive nature of something like this and why he had to wait to return to US soil and discuss this report in a secure location with the President.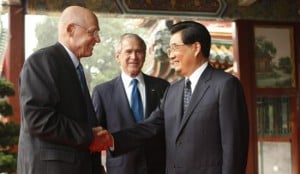 We'll mention, though, that at the very same time Mr. Paulson was in Beijing for the Olympic games, it just so happened that President Bush was there, as well. If this was as important an issue as Mr. Paulson makes it out to be, perhaps he and the President could have taken a quick trip to Air Force One for a secure conversation about an economic attack on our financial system.
However, it is clear from the Reuters August 2008 article that Fannie and Freddie were already in trouble, and Russia selling FRE/FNM bonds to crush our financial system was probably not necessary.
While we acknowledge that the United States is engaged in an economic global war, we'll note that the US financial system didn't need no stinkin' Ruskies of Chicoms to bring it down. We were perfectly capable of doing that ourselves, thank you very much!
On a serious note, Zero Hedge points out that Russia did, in fact, sell its bonds in 2008 and that the implications of this are troubling:
"…as in a newly multi-polar world, in which China is now the second largest economy, and merely needs a block of one other major power, be it Russia or Japan, in order to precipitate a selloff in critical U.S. securities, be they MBS (not so much these days), or, more relevantly, Treasuries.


Curiously, the bailout of the GSE was based on the premise that placating China and other major US security holders (both in the public and private arena) is critical."

—

"If indeed China had been considering selling its bonds, it means that it had likely approached the proper senior level officials with its concerns, and could have been a material influence in bailout policy in the days surrounding the Lehman collapse. Which makes an even bolder case for the observation that the U.S. is nothing more than a vassal state of its largest creditor: if China can dictate domestic policy, which these days typically amounts to yet another bailout decision, then why do Americans need to pretend their government is at all relevant any longer?"
The implications are indeed troubling.