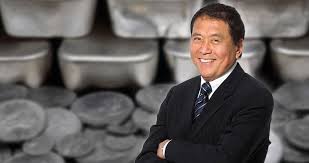 In a recent interview, author Robert Kiyosaki spoke with Lior Gantz of the Wealth Research Group.  The two discussed the economy and the future of gold, silver, and bitcoin as the Federal Reserve continues its money printing scheme.
Kiyosaki is the author of the book Rich Dad, Poor Dad. He also co-authored a book with president Donald Trump called Why We Want You To Be Rich. In this interview, Kiyosaki explains where he thinks fiat currency is headed and where metals and cryptocurrencies will end up.
This economic disaster will be a deep crisis spanning years, not months. Because of that, Kiyosaki says you should prepare now, as things are not set to improve any time soon. To see a special report put together by Gantz, click here. 
Robert Kiyosaki: What The Elites Don't Want You To Know
Kiyosaki says that financial education is vital and he started to understand the monetary system after the United States took the dollar off the gold standard. He says, "when they did that, they basically cheated the world." That meant the U.S. could simply create as much money as it wanted, and the Federal Reserve was all too happy to do that. "That's why the rich don't borrow money. Because the U.S. dollar is fake. We couldn't keep up this fakeness if we didn't have the most powerful military in the world." And oddly enough, the military was funded with that same fake money created out of thin air. "Nobody would put up with that bullshit."
Greg Mannarino: "The Fed Is About To Sell You ANOTHER MASSIVE LIE!"
Kiyosaki says that's when he became a "gold bug." He decided to get back to "God's money," which is gold and silver. "I don't care what my criminal country does, our Reserve bank, Wall Street, all that. You know, they've ripped off the world." Once you understand how the financial system in the U.S. works, you go "ok. I'm dealing with the Mafia," adds Kiyosaki. "Once you know that, you can become a warrior."
What's coming next is a pension crisis and it will be in the trillions. They've looted the pensions of Americans, and most have yet to figure this out.  After that comes the artificial intelligence crisis and all the "college graduates are toast." Once the pandemic is gone, the biggest problems in American will surface. Kiyosaki prepares by converting his U.S. dollars immediately into gold, silver, and bitcoin. The magic trio that will withstand the dollar's demise.
"You've got to know, the problem is the money. Gold and silver are God's money. Bitcoin is people's money," Kiyosaki said. "You can't mess with it. It's decentralized money."
When Gantz asks Kiyosaki what America can do to recover, he doesn't have a great response. "America's finished. Democracy only lasts 200 years. It's over. We're now becoming a Marxist society." He says "I don't give a shit about my government. I'll tell you that. I don't trust them…and I don't go to the stock market because that's the American mafia. Every democracy ends…American's going to Hell right now, and it's because we're a corrupt nation."
Kiyosaki then unloads on president Donald Trump. "The problem with Trump is he's a bully and he picks on people he shouldn't pick on."
Wealth Research Group has put together some reports that are free and could be considered essential reading in this volatile environment. If you are interested, please use the links below.