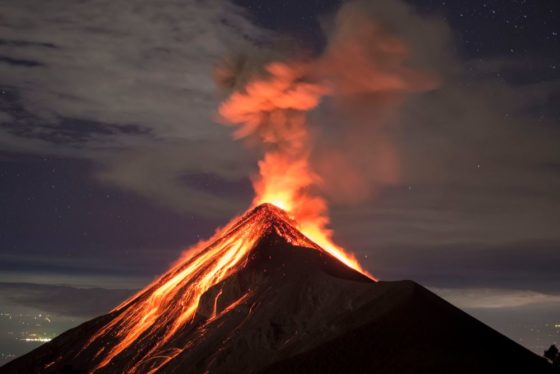 Approximately 4,000 residents living near the Fuego volcano in Guatemala have been evacuated as the firey mountain began spewing hot ash and red-hot lava. The "Vulcán de Fuego" or "Volcano of Fire" has erupted five times already this year.
The Fuego volcano is one of the most active in Central America. An eruption back in June of this year killed 194 people when pyroclastic clouds rolled down its slopes. Fuego began violently erupting overnight, the country's disaster agency Conred said, according to Reuters. June's eruption was incredibly deadly and the nation's president Jimmy Morales issued a three day national mourning period for those who lost their lives in the deadly blast.
Sergio Cabañas, head of the country's National Disaster Management Agency (Conred), said the town of El Rodeo had been "buried". Other towns affected include Alotenango and San Miguel los Lotes. Rescuers are still trying to reach a number of villages.

"Not everybody could leave — I'd say they were left buried," Consuelo Hernández, a resident of the town of El Rodeo near the volcano, told the local el Periodiconewspaper. "Where we live the lava was coming down an alleyway… we ran to a hillside. If there are people buried, the lava came over the plots of land and streets." –SHTFPlan
The volcano spewed out dangerous flows of fast-moving clouds of hot ash, lava, and gas early Monday morning and more than 2,000 people had taken refuge in shelters so far, officials from the agency told reporters. There were no immediate reports of injuries during this eruption. Juan Pablo Oliva, the head of the country's seismological, volcanic and meteorological institute Insivumeh said that more dangerous flows of hot ash and lava could be expelled during this current eruption.
This is the fifth eruption so far this year of the 3,763-meter (12,346-feet) volcano, one of the most active in Central America, about 19 miles (30 km) south of Guatemala City.