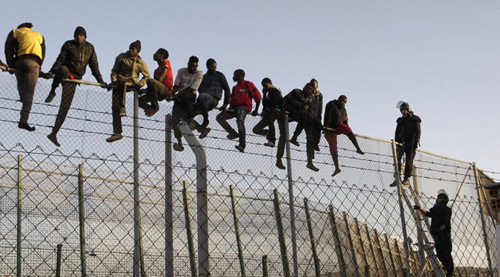 There's a reason Americans are angered over illegal immigration and despite what liberal-leaning socialists like Hillary Clinton and the Huffington Post may suggest, it has absolutely nothing to do with racism.
It's an economics issue, plain and simple.
And as highlighted by a new report from the Washington Examiner, it's actually American citizens who are feeling the brunt of the pain and being treated unfairly, not the other way around:
Illegal immigrant households tapping into the federal food stamp program are receiving $1.4 billion to $2.1 billion a year despite their ineligibility, according to a new analysis of the Agriculture Department program.

And rules guiding who can get food stamps favor households with illegal immigrants over all-U.S. citizen homes, according to the detailed report from the Center for Immigration Studies released Monday morning.
David North of cis.org explain how the scam works:
Let's say that the all-citizen family consisted of three people, employed father, stay-at-home mother, and a small child. Dad makes $2,400 a month. The family's income is too high for food stamps since the maximum monthly income is $2,177 for a family of three.

Then next door there is a mixed family, also three people, with the father being the only worker, also earning $2,400 a month. The difference is that the father is an ineligible alien and so, under many states' regulations, one-third of the family's income is ignored (prorated is the word in SNAP circles), leaving the family with a nominal income of $1,600 a month that allows the family to get a food stamps allotment, but only for the two citizens, not for all three in the family.

There is thus a band of households of three with earnings in the range of $2,177/mo. at the bottom to $2,589/mo. at the top that would be eligible for food stamps but only if the wage earner is a non-eligible alien in the eyes of USDA; all-citizen households in this band would not be eligible for food stamps. (Here's the math: $2,589 = 150 percent of $1,726, the maximum income allowable for a family of two when there is a 33.3 percent discount on the illegal's wages).
That $2 billion a year in free food offered to people who shouldn't be in this country in the first place is only part of it.
An already overburdened American taxpayer is also forced, by way of the gun, to pay for illegal immigrants' health care, college tuition, and other social services.
But if you argue against illegal immigration or the "free" services they consume you are a racist.
We'd argue you're a realist, especially if you understand that all of these free services only work until the government runs out of other peoples' money.