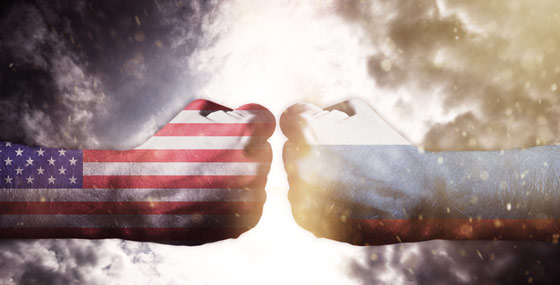 The U.S. intelligence agencies, spearheaded by James Clapper have been preparing to release declassified reports that allegedly prove Russian culpability in influencing the U.S. presidential election.  This has been going on back and forth since before the election; however, it is starting to take on a new complexion.  Obama has quietly been deploying more troops and shifting around assets.  There is a distinct possibility that before he departs, Obama will initiate measures to place us into a war with Russia, and at the bare minimum attempt to sour relations even further prior to Trump taking office.
International Business Times released an article entitled Elite US troops deployed to deter Russian aggression toward Lithuania as Baltic tensions rise.  Here is an excerpt from that article:
"The Lithuanian government has confirmed the presence of US special forces in the country, which it said had been deployed to train local forces and act as a deterrent against Russian aggression."
The number was not provided; however, the main point of interest is the end of the article, as noted here:
"In recent months, booklets have been distributed in Lithuania advising citizens how to spot Russian weapons and hardware and how to wage guerilla warfare campaigns. In December, US Republican Senators John McCain and Lindsey Graham and Democrat Amy Klobuchar visited the region to allay fears that the US commitment to the alliance was waning."
This should herald a potential provocative action, as McCain and Graham (two Military Industrial Complex-paid politicos) were responsible (along with Victoria Nuland) for the orchestration and implementation of the coup d'état in Ukraine.  Now they're dabbling in the Baltic states, joined by Senator Amy Klobuchar (D, Minnesota), one of the most horrible feminist Marxists to surface from the cesspool in a long, long time.  This "bipartisan" team is now working to inflame the Baltic states in the same manner as Ukraine: the modus operandi never changes, just a minor adjustment in the cast of characters.
The reason this is serious is (as you may have read) Obama is working overtime to instigate problems with Russia.  With the phony declassified civilian version of the intelligence report about to surface, the administration is building its "justification" to take provocative measures as this recent deployment to Lithuania.
The media has been pushing for Russia's "demonization" in the minds of the American public, unleashing a steady barrage to denigrate Trump and paint a picture of him being Vladimir Putin's "lackey" regarding the hacking of the elections.  Although Russia is not biting, they are not as likely to turn a blind eye in the remaining weeks if provoked militarily.  You can see the alignment of the MIC (Military-Industrial Complex) stooges in Congress, such as Paul Ryan championing Obama's actions versus Russia with the latest round of the imposition of sanctions.
Ryan and McCain do want to go to war with Russia, and Obama is playing his last "trump card" before Trump shows him the door: create a scenario where the U.S. is either "obligated to respond" to what Russia does, or simply initiate hostilities and then deny any such actions.  Obama has been posturing assets and materials since after the election.  Most recently the US government has been providing anti-aircraft weaponry to "Syrian rebels," and these actions were decried by Sergey Lavrov, the Russian Foreign Minister as having the potential to re-inflame and escalate the conflict in the area.
These rebels are being supplied to create chaos in Syria and further destabilize the region, so as to make things even more difficult for the incoming administration.  The problem is that everyone sees Obama as "going out the door," and there are no true checks upon his actions up until the last couple of days before the inauguration.  When has he been thwarted before in his plans?  He has not been, and the next couple of weeks could very well lead to Obama placing us into a conflict with Russia.
---
Jeremiah Johnson is the Nom de plume of a retired Green Beret of the United States Army Special Forces (Airborne).  Mr. Johnson is also a Gunsmith, a Certified Master Herbalist, a Montana Master Food Preserver, and a graduate of the U.S. Army's SERE school (Survival Evasion Resistance Escape).  He lives in a cabin in the mountains of Western Montana with his wife and three cats. You can follow Jeremiah's regular writings at SHTFplan.com or contact him here.
This article may be republished or excerpted with proper attribution to the author and a link to www.SHTFplan.com.
Also Read:
The Surveillance State Did Not Disappear With The Trump Victory: "It Is Still Lurking And Completely Intact"
Obama's Last 20 Days: "This Transition Period Is Such A Dangerous Time For The Country"
The Obama Legacy: "Crippling Debt, Massive Unemployment, Welfare-based Society, Deteriorated Infrastructure, Massive Inflation, And A Worthless Fiat Currency"
Trump Can't Stop It: "The People Who Have Been Orchestrating The Collapse Have Not Halted Their Agendas"
Eisenhower Promised To Drain The Swamp – Let's Hope History Doesn't Repeat
"We Will Soon Find Out What True Censorship Means" – Obama's Surrender Of Internet Control To Authoritarian Regimes Is Irreversible