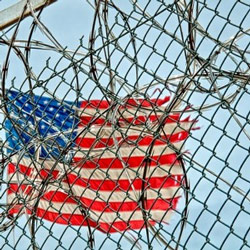 This article was written by James Wesley Rawles and originally published at his Survival Blog website.
Editor's Comment: There is little doubt that activists, preppers and freedom loving patriots across the Internet and reading this and other alternative sites have managed to get themselves on one or more government "lists." Despite official denials, there are many specific reasons to think that the government is compiling numerous watch lists that could be activated as "round up" lists for dissidents in the aftermath of a major emergency. FEMA and Homeland Security keep Continuity of Government (COG) as a top priority and will target anyone who could undermine that objective.
With that said, what is the most effective way to avoid being rounded up in the event of a crisis where martial law could be declared? How can you keep yourself off the radar and out of trouble before that time comes – the biggest tip is regard online comments and posts to social media outlets like Facebook with serious caution. Shadowy intelligence agencies and police departments alike now troll social media build profiles of people they distrust and wish to watch more closely. After that, keep off their radar and off the beaten path before they come for you.
Red List, Blue List, Black List, You List
by James Wesley Rawles
There has been a lot of conjecture in the past 40 years in patriot circles about the existence of government "round up lists". Large-scale disaster and war planning exercises, like REX-84 (Readiness Exercise-1984) and Jade Helm 2015, have stimulated endless discourse about whether or not the government maintains a so-called "red list" and "blue list" of people that they deem to be dissidents who they might target for harassment, travel restrictions, or even detention without due process of law. Because any such lists would presumably be developed and updated under the wraps of a security classification and the Need To Know rule, this topic is understandably rife with conjecture, speculation, and even downright fabrication. So, in this essay, I will do my best to restrain my inner John Bircher and just stick to the facts. I'll simply state the facts and add a bit of well-reasoned extrapolation, based on known technological trends.
The Real Face of FEMA
The centerpiece of all the speculation is the Federal Emergency Management Agency (FEMA). In my estimation, most of the chit chat on the Internet about "secret FEMA camps" is highly sensationalized. Civil internment is probably the lowest priority of any of FEMA's contingency missions, and some would describe it as an almost hypotheticalcontingency.
Most Americans don't realize it, but FEMA's key mission is not disaster relief to the general public. Instead, their highest priority mission is assuring Continuity of Government (COG) following an external attack or following a widespread disaster that disrupts command, control, communications, and intelligence (C3I) assets and processes. If FEMA's budget were ever drastically slashed, then the very last of their missions to be de-funded would be COG. In FEMA-speak, the COG part of their mission is listed under "National Continuity Programs". They prefer to use the term Continuity of Operations (COOP), and that same term is used by the Department of Homeland Security (DHS). These taskings fall under the purview of FEMA's National Continuity Programs Directorate and are organized per the National Continuity Policy Implementation Plan (NCPIP).
[…]
Main Core
According to an article written for Salon magazine by Tim Shorrock in 2008, the NSA was the lead agency in developing a comprehensive personalities database called Main Core. This is the code name of a database containing personal and financial data of millions of U.S. citizens who are believed to be "threats to national security".
[…]
Black List
If anyone reading this is politically active and is an outspoken champion of personal liberty, then it is probably safe to assume that you are already on some sort of list, at least a "watch list". You might also be on a cyber black list, targeting you for disinformation/discrediting campaigns or perhaps for DDOS ping attack hacking… The key question is: what is your priority on those lists?
[CONTINUED AT Survival Blog.com]
Read more from James Wesley Rawles on the continuity of government (COG) plan to round up dissidents like YOU during an emergency in his post at SurvivalBlog.com