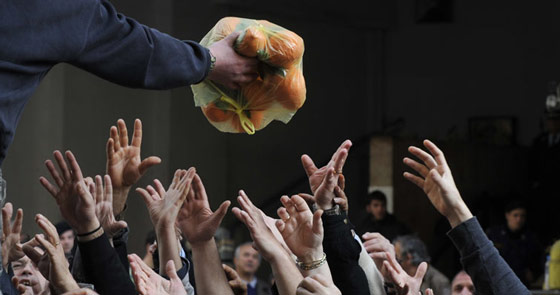 Food prices have soared in recent weeks while at the same time, farmers are smashing eggs and dumping out milk. Farmers are wasting more food than ever while most Americans are feeling a pinch at the grocery store.
The power-hungry elitists have done their job.  The wealthy will get to eat while the poor, who were forced out of work will have to just "figure it out." A lot of Americans will soon be eating a lot less. Grocery prices spiked by the largest amount in nearly 50 years last month because of the draconian shutdown of most the economy, including food facilities. There is now much more demand there is supply, therefore, food will go to those who can afford to buy it.
Prepping For The Upcoming Government-Induced Food Shortages
"Just about everyone is looking for assistance because the pandemic has hit every kind of person," said Paula Murphy, a spokesperson for the Houston Food Bank. "We're serving the clients we served pre-pandemic and we're serving the clients who never thought they would need to visit a food bank," she said according to Yahoo News.  
In addition to food factories closing in obedience to government demands, farmers are destroying their own products. An unprecedented amount of food is getting dumped even before making it into grocery stores. Governments are the cause of all of the food shortages. Around the globe, production is handled through what's known as just-in-time methods. The output from farms can be shuttled into stores or restaurants within just a few days, and the next batch of crops and livestock is ready to take its place immediately.
"Any Crisis Can Bring About Immediate Food Shortages" – Food Is A Weapon In The Hands Of The Powerful
With all of this waste happening while demand is high, food prices will soar even more. "People who can barely afford to feed themselves now will face even more problems," said Marc Bellemare, a co-editor of the American Journal of Agricultural Economics. "What worries me is human welfare."
Prepping For The Upcoming Government-Induced Food Shortages