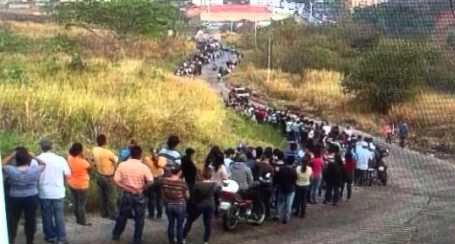 The situation in Venezuela is reaching all out chaos, as crippling socialist policies have resulted in a devastating power and food shortage, as well as looming political instability.
The point was reached long ago where people were forced to wait in long lines for basic rations that may not even be there, or turn to the black market.
Now, hunger and scarcity have apparently reached a tipping point that is driving people to poach stray animals and even pets for food.
According to the PanAm Post:
Ramón Muchacho, Mayor of Chacao in Caracas, said the streets of the capital of Venezuela are filled with people killing animals for food.

Through Twitter, Muchacho reported that in Venezuela, it is a "painful reality" that people "hunt cats, dogs and pigeons" to ease their hunger. People are also reportedly gathering vegetables from the ground and trash to eat as well.

The crisis in Venezuela is worsening everyday due in part to shortages reaching 70 percent […] six Venezuelan military officials were arrested for stealing goats to ease their hunger, as there was no food at the Fort Manaure military base.
As pure desperation sets in, crime also becomes inevitable.
A man accused of mugging people in the streets of Caracas was surrounded by a mob of onlookers, beaten and set on fire, according to the Daily Mail, who published a pixeled-out but still graphic video of the man burning:
An alleged thief suffered the most brutal mob justice in Caracas, Venezuela, when he was beaten up and burned alive in the street.
Roberto Fuentes Bernal, 42, was reportedly caught trying to mug passersby in the Venezuelan capital, and before police arrived at the scene, the crowd took the law into their own hands.

[…]

Local media reports that Bernal was taken to a nearby hospital and is receiving treatment for burns covering 70 per cent of his body.

One witness said Bernal had been caught trying to rob a man as he left a nearby bank, while another version of the story has Bernal arguing with his wife in the street. 
Here's the video (Warning: Graphic):
There are factions vying to oust Maduro, but signs that he may hang on and force his population to endure more of this socialist nightmare.
Let us hope that these events don't come home to the streets of America, and prepare to avoid them in case they do.
Read more:
A Step-By-Step Guide To Prepare For Any Disaster
Venezuela, Socialist Paradise in Collapse: "Rationing Food, Toliet Paper… Now Electricity"
Collapsing Venezuela Is Out of Food: "Prepping Became Illegal", Long Lines Mandatory
This Is How Government Dealt With Dissent And Revolt In Collapsing Venezuela – "Soldiers Shooting Civilians In The Streets, Paramilitaries Roaming Neighborhoods"
Venezuela Rations Power to Avert Collapse: "Do You Think It Can't Happen Here?"