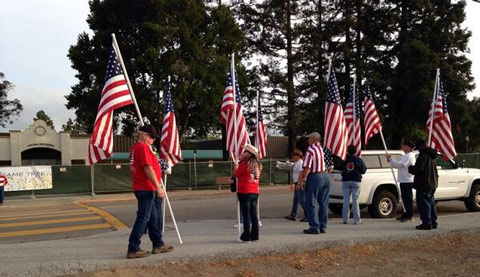 (Pictured: Alleged racists demonstrating with American Flags at Live Oak High School)
Apparently there are a good number of people living in The United States of America who consider waving the Star Spangled Banner a racist act.
So say scores of Twitter users responding to Americans demonstrating in front of a local California high school.
Paul Joseph Watson of Infowars.com provides some background:
A protest against a California school district's decision to ban the wearing of American flag t-shirts on Cinco de Mayo has begun this morning, with demonstrators displaying large flags and banners outside Live Oak High School in Morgan Hill.

The demonstration stems from an incident in 2010 when four students at the school were told by assistant principal Miguel Rodriguez to turn their shirts inside out or go home because the American flag designs were seen as "offensive" to Mexican students on Cinco de Mayo, a day on which Mexicans celebrate their heritage.

The incident led to a lawsuit, Dariano v. Morgan Hill Unified School District, in which students claimed their First Amendment rights had been violated. However, in February the 9th Circuit Court of Appeals sided with the school, asserting that the threat of racial violence as a result of the t-shirts trumped the right to free speech. The case is set to be heard by 11 judges after another appeal was filed.
The 9th Circuit's decision essentially says that, should a threat of potential violence exist because of unpopular speech or protests, it is no longer within your Constitutional rights to publicly assemble.
And where does the threat originate? Certainly not from the protesters, who are peacefully assembling in a public place and exercising their First Amendment rights.
The 9th Circuit sided with these people, who took to Twitter to blast not only the demonstrators as racists, but the American flag itself:
Protestors with American flags now in front of live oak high in Morgan hill. In 2010 four students sent home on..


— Will Tran (@KRON4WTran) May 5, 2014
Cinco de mayo because they wore u.s. Flag t shirts. That sparked a natl debate over safety vs freedom of speech  — Will Tran (@KRON4WTran) May 5, 2014
Shout out to the racist azz adults, so-called Patriots who are posted up at Live Oak HS in Morgan Hill protesting Cinco de Mayo #idiots.. — Davey D (@mrdaveyd) May 5, 2014
What's wrong with these white people holding up American flags in Morgan hill??? Racist assholes smh—
gia lee (@geetothelee) May 05, 2014
Hey Folks in Morgan Hill. You have some racist neighbors. You need to check those tea party assholes.

— Al_Bondigas (@tichie) May 5, 2014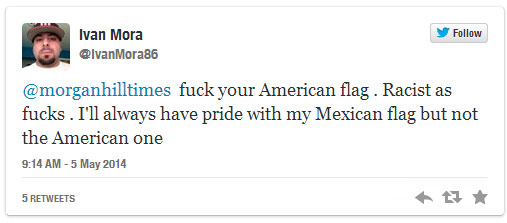 (This tweet has since been removed by the user)
@deportmonaeltah I'm a us citizen you dumb bitch . Fuck USA . I rather support any other country besides this racist one !!!!!!! — Ivan Mora (@IvanMora86) May 5, 2014
But it wasn't all one side, as other users stepped in to defend the actions of those at Live Oak High School:
@tichie that whole mess started when american students were told they couldn't display the american flag because it might offendHispanics. — Jeff W (@Jeffmw) May 5, 2014
@tichie I wore the US flag on my arm while serving in Iraq. Does that make me racist?

— 100%MozillaFree (@jon_jononymous) May 5, 2014
@verduzco94 @KRON4WTran @kron4news Please explain your racist claim. Live Oak High is in the USA right? How is a flag racist?

— Lonny Wedell (@lonnyonline) May 5, 2014
@jorgemx12 whys is it racist to display the american flag in America?

— Jeff W (@Jeffmw) May 5, 2014
@KRON4WTran Good for them !!!! Este es America. Right????

— anny ordonez (@annyordonez1) May 5, 2014
@IvanMora86 @morganhilltimes If the flag offends u… Please let me help u pack!!

— anny ordonez (@annyordonez1) May 5, 2014
Indeed. Este es America, right?
Tweets via Twitchy