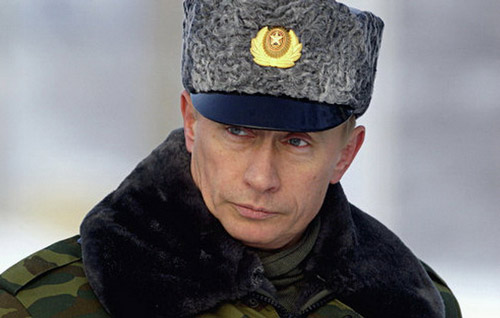 On the heels of news that the United States is posturing ships in the Black Sea near Russia's border, Vladimir Putin revealed a slew of new defense systems Thursday, including a new prototype missile that "can reach any point in the world." He also has a supersonic weapon that cannot be tracked by anti-missile systems.
According to CNBC, Putin joked that the two new strategic nuclear weapons he described (the global cruise missile and the subsurface unmanned vehicle) did not have names yet and lawmakers could submit their suggestions via the Defense Ministry website. Also alarming, was his speech on when the Russians would use nuclear weapons. When delivering his annual State of the Union address, Putin also said that, if attacked, Russia was ready to use nuclear weapons in defense.
"We see increased opportunities with the armed forces," he said. "We've done a lot to strengthen our army and navy and they are equipped with modern weaponry." He then showed the audience a video of how one of the prototype missiles would work, explaining that the new system would have no limitations on its range. "It can attack any target, through the North or South Pole, it is a powerful weapon and no missile defense system will be able to withstand," the president said.
Putin also said Russia had another weapon that was a "small nuclear power energy system"  (a nuclear warhead) that can be deployed on a cruise missile system that can also, he claimed, "avoid all interceptors." He said the country had tested this cruise missile with the "nuclear power energy unit" in 2017 and it was successful. Russia would also start manufacturing this weapon right now, he added. "This is unheard of and nobody else has such a system in the world. They might create something like this in the future but by then our guys will have created something new as well."
Putin also declared to his audience "but even this is not the end," unveiling a system capable of destroying intercontinental targets with "hypersonic" speed.  "I'm pleased to inform you that after certain experiments, we are sure that soon Russia's strategic missile forces will have a new system capable of destroying intercontinental targets with hypersonic speed and high-precision, able to maneuver both in terms of its course and altitude. There are no systems like that in the world." He said Russia had been open about the development of such a system but that "nobody listened to us, but listen to us now." Lawmakers then gave Putin a standing ovation.