This article was originally published by Tyler Durden at ZeroHedge. 
On Wednesday Russian President Vladimir Putin gave a wide-ranging public war update during a televised session of his Human Rights Council, which at least one independent regional outlet said was tightly controlled in terms of the kind of questions Kremlin officials could ask.
Among the more important topics, he addressed related to the now over 9-month-long "special military operation" in Ukraine were future plans for broader mobilization and the prospect of deployment of nuclear assets. On the latter point, Putin lashed out at the United States and NATO, saying "Russia does not have tactical nuclear weapons in other countries, unlike the US."
This was a reference to the fact that some NATO members in Europe, including extending as far east as Turkey, do act as host countries to many of the U.S.'s tactical nukes.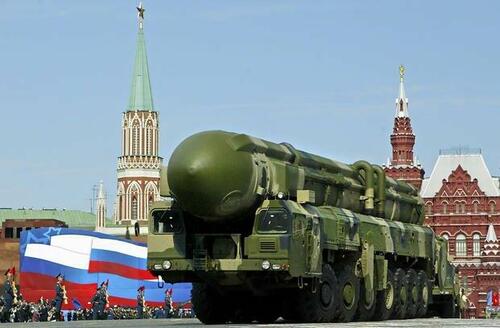 "We don't want to wave it around": Putin
Importantly, given the ratcheting US-NATO arms pipeline to Ukraine's forces, which has lately involved transfer of increasingly sophisticated and longer-range missiles, Putin warned that the "risk of nuclear war in the world is rising." 
He further took the opportunity to restate Russia's 'defensive' nuclear doctrine, stressing that nuclear weapons would be considered as a response to an attack on Russian territory, while also stating that he stands ready to defend Russian territory "using all available means".
According to a translation of Putin's remarks in Sky News:
"We didn't speak about usage of nuclear weapons." Then, he said: "Russia has not gone mad."

"We have the most advanced weapons, but we do not want to wave it around."
But in taking a swipe at Washington's nuclear deployments in Europe, he seemed to suggest that it's precisely the US side doing the nuclear saber-rattling.
"Yes, we will do this by various ways and means. First of all, of course, we will focus on peaceful means, but if nothing else remains, we will defend ourselves with all the means at our disposal," Putin said.
developing…