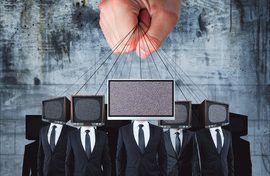 The mainstream media has slipped up! In their efforts to keep the fear high and information low, the MSM admitted that people were hospitalized with COVID-19 after complying with the draconian lockdown measures.  Oops…
According to a CBS report, more than half of people (66%) in New York that had COVID-19 and were hospitalized for it to it while obeying the commands of the ruling class and complying with the lockdown orders.
"Even mainstream media is starting to admit, little by little, begrudgingly of course, that this whole thing is turning out to be a massive dog and pony show," says Brian of High Impact Vlogs. 
The elites have started to admit that they manufactured this whole COVID-19 scam to push the Great Reset, which will include a totalitarian system of masters and slaves. If you are easily triggered and think the political puppets will save you, the following video should be avoided. If you really want to know what's going on and why it won't matter who is (s)elected in November, watch:
I personally feel that those who know what's going on have an obligation to our children and unborn grandchildren to not leave them a system of enslavement. That means getting rid of every single institution that requires we obey and submit.  Complete abolishment of all slavery is the only solution. Along with that should come the knowledge that no other human has any moral right to control or enslave, and no human being has any obligation to obey as long as they are harming no one. Any other line of thought is the creed of slaves.
Stop living in fear. Wake up, prepare, and be alert.  Things look to really turn ugly in the next few months as we approach the election.