This article was originally published by Tyler Durden at ZeroHedge.
Medical workers descended on the apartment block in Tsing Yi district wearing full protective suits and evacuated 100 people in 34 apartments after cases were identified more than 10 floors apart, suggesting that the virus may have traveled through the pipes.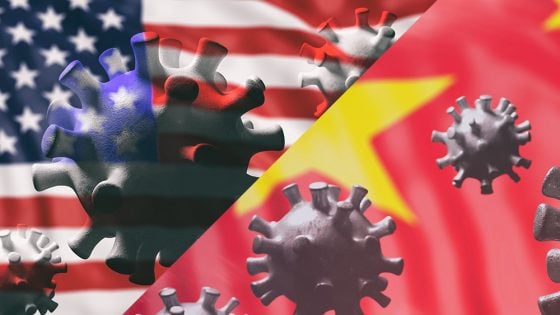 Summary:
13th case diagnosed in San Diego was evacuee rescued from Wuhan, she was briefly accidentally released
China death toll tops 1,000, globally cases top 40k
CNBC's Eunice Yoon reports on China's sluggish 'return to work'
Hong Kong building residents quarantined over fears virus spread via pipes
A cruise ship with 0 nCoV cases refused entry to the fourth port, in danger of running out of food
Beijing fires top health officials in Hubei, summons others to Beijing for an explanation
Scientists in Hong Kong and the mainland present vastly different takes on the virus
2 Japanese men test positive but were accidentally released
President Xi says China will be 'more prosperous' after the outbreak
Experts suspicious about how Indonesia hasn't reported any nCoV cases
* * *
Update (0900ET): The Guardian reports that the diagnosis of four people living in a single apartment block in Hong Kong that has been evacuated and some of its residents quarantined has prompted worried comparisons to SARS.
Medical workers descended on the apartment block in Tsing Yi district wearing full protective suits and evacuated 100 people in 34 apartments after cases were identified more than 10 floors apart, suggesting that the virus may have traveled through the pipes.
One 62-year-old woman was among the victims, and she apparently passed it to her son and daughter-in-law who live with her and were among seven new cases reported on Tuesday, raising the city's total to 49, leaving it in third place overall, behind mainland China and the 'Diamond Princess', which is under quarantine in Yokohama.
Plumbing was a problem during the SARS outbreak as well, as there were incidents where the virus traveled through the pipes.
Meanwhile, the Westerdam luxury liner still hasn't found anywhere to dock after Thailand refused it entry earlier on Tuesday, which we noted below.
In other China news, the Communist Party Boss of Huangguang, a city that has been badly impacted by the outbreak, warned that the crisis in his city is still "Very severe." We suspect he will be scapegoated by this time tomorrow. After appearing in public yesterday for the first time since the outbreak kicked into high gear, President Xi said Tuesday that China will be "more prosperous" after the outbreak (despite its economy-crushing blowback). It's the latest sign that Beijing is growing desperate to convince the public that China's slowing economy can weather the outbreak without a severe downturn.
It begs the question: Will Xi add the capitalist concept of 'creative destruction' to his 'Xi Jinping Thought'?
In an incident that mirrors the circumstances of the 13th virus case diagnosed in the US by health officials in San Diego, Bloomberg reports that two Japanese men who were evacuated from Wuhan late last month have tested positive for 2019-nCoV after earlier having been cleared by the Japanese health ministry. It's just the latest sign that the virus may be undetectable – or 'silent' – for a period, allowing its host to unknowingly spread it without being detected.
Health officials let the coronavirus patient in San Diego travel back to the army base quarantine briefly before realizing the error and recalling her to the hospital.
The case brings Japan's total to 28 (not including the 136+ trapped aboard the DP).
In other news, the NYT reported late Monday that scientists are growing increasingly suspicious of Indonesia, and the fact that no cases have been reported in the country, despite thousands of tourists from Wuhan and Hubei visiting the country after the outbreak began. Many worry Indonesia is simply ignoring the threat, given that it was relatively slow to freeze flights from China. A consular official estimated that 5,000 Chinese remained in Bali alone, including 200 people from Wuhan.
"So far, Indonesia is the only major country in Asia that does not have a corona case," Indonesia's security minister, Mohammad Mahfud MD, told reporters on Friday. "The coronavirus does not exist in Indonesia."
None of the 285 people who were evacuated from Wuhan and are now in quarantine on the Indonesian island of Natuna have shown signs of the virus, he added.
* * *
Update (0800ET): CNBC's Eunice Yoon tweeted out a report that aired early Tuesday morning on CNBC detailing the struggles of one factory owner as China lurches slowly back to work.
Production lines across #China stall due to #coronavirus. Why one Beijing manufacturer worries disruption to the #supplychain could last until April. My report on electric motorbike company @EvokeMotorcycle. @CNBC pic.twitter.com/cPagv4pNMC

— Eunice Yoon (@onlyyoontv) February 11, 2020
The takeaway: Much of China's economy, particularly its industrial core, remains shuttered.
* * *
A 13th case of the Wuhan coronavirus has been confirmed in the US after one of the Americans who traveled to California from the epicenter of the outbreak on an evacuation flight last week has been determined to have contracted the virus.
Like with cockroaches, where there is one case of coronavirus, there will likely be more, especially since the patient traveled on a long-haul flight with dozens of others, increasing the likelihood that at least some of them were infected. The State Department chartered four flights to rescue more than 800 Americans who had been trapped in Wuhan by the quarantine passed by Chinese officials on Jan. 23. One American who apparently opted to stay behind in Wuhan has succumbed to the virus, according to Chinese officials.
Even more alarmingly, the evacuee was accidentally mistakenly released from UC San Diego Medical Center, though she wasn't released to the public: All evacuees will spend 14 days on designated military bases being repurposed as quarantines. The case was the first in San Diego.
Initially, the hospital reported that four patients undergoing testing at the hospital had tested negative for the virus, and they were discharged and returned to federal quarantine at Marine Corps Air Station Miramar, where more than 200 evacuees are staying. However, "further testing revealed that one of the four patients tested positive for 2019-nCoV," CDC officials advised San Diego Public Health on Monday morning, and the person was returned to the hospital "for observation," the hospital said in a statement.
The CDC said it's tracing all of the individual's contacts since arriving in the US, Reuters reports.
"CDC is conducting a thorough contact investigation of the person who has tested positive to determine contacts and to assess if those contacts had high risk exposures."
Most US-China flights have been suspended by the White House, and only a handful of American nationals arriving on commercial flights from China have been quarantined under rules imposed on Feb. 2 to curb the virus's spread.
There are now at least 3 cases of the virus diagnosed in California.
Out of eight states that have set up airport screenings for the virus, only six of them said they had no one under quarantine, while NY said it had 4 and Illinois aid it had a "tiny" number.
In China, the scapegoating continued on Tuesday as Beijing fired two of the most senior health officials in Hubei just hours after officials reported 108 new deaths from the virus on Monday, the first time a daily death toll has topped 100. Only 2 of the more than 1,000 deaths occurred outside mainland China.
Zhang Jin, the Communist party boss of the provincial health commission in Hubei, and its director Liu Yingzi were removed by the decree of the party yesterday.
In their stead, senior Beijing official Chen Yixin has been sent to Wuhan to lead virus-suppression efforts at the crisis's ground zero. Chen, a former deputy party chief in Hubei, will be deputy head of a central government group dispatched to the province.
Additionally, 3 senior Wuhan officials have been summoned to Beijing to explain their failings, according to state media reports cited by the SCMP.
Authorities were accused of playing down the extent of the outbreak in early January because they wanted to project an image of stability.
Wuhan authorities also faced criticism for going ahead with an annual public banquet for 40,000 families just days before the city was placed on lockdown, according to the Daily Mail. Beijing is, of course, trying to deflect attention from the senior Party leadership's failures – failures that are implicit in their policies that guarantee the suppression of information during crises. However, the death of Dr. Li Wenliang late last week made it almost inevitable that the locals in Wuhan and Hubei would be punished – after all, it was Wuhan police who initially reprimanded Dr. Li for his warnings about the outbreak. Warnings that, if heeded, would have helped save hundreds of lives.
A top Red Cross official in Wuhan was also removed for dereliction of duty earlier this month. Local officials have faced an intense backlash almost since the beginning, once it had become clear that the virus had been allowed to spread within Wuhan without police or health authorities doing anything to stop it.