Jeremiah Johnson is a retired Green Beret of the United States Army Special Forces (Airborne) and a graduate of the U.S. Army's SERE school (Survival Evasion Resistance Escape). You can contact JJ by using this form.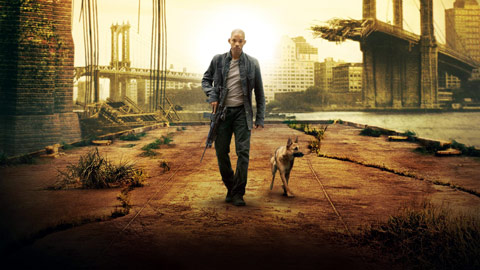 (I Am Legend, 2007. Image courtesy Warners Bros.)
Good Day, Readers!  This segment (Part 1 of a two-part series) entails how to use the resources of "pop-culture," such as films/movies, reality television shows, books, and even video games as training tools to help you in a post-collapse world after the SHTF.  The second article will list specific citations that you can use to "game" scenarios and plan some things for yourselves and your families.  The cited "resources" will also include the locations of these scenes and how to access them/where they are located.
This article (Part 1) is meant more as an overview for you, the reader, to consider the possibilities regarding what you may not have yet considered.  Please allow a personal, objective viewpoint to "leak" into the article to clear up any apprehensions or misgivings about the purpose of this article.  Here is the author's viewpoint:
Hollywood's film monopoly and its subsidiary industries/complementary products (books, video games, etc) have been an ever so slowly denigrating, corrupting influence over decades.  Hollywood and her "handlers" have been conducting a withering direct assault stretched deeply over time upon the culture, morals, families, communities, and national sovereignty of the citizens of the United States.  The assault is being conducted in order to shape opinions of the population toward compliance and acceptance of globalism and totalitarianism through propaganda, disinformation, and cultural erosion.
That being said, the author is well aware of many factors that have been mentioned in these alternative media forums that soundly (and roundly) cover the bases concerning pop-culture, and he agrees with them.  To ensure this is understood and accepted, some of these factors are listed and detailed here as follows:
Pop culture "glorifies" a warrior-ethos and promotes militaristic thought within the population that can be "harnessed" toward the hard-end-state totalitarian structure: compliant, blindly patriotic soldiers working for the collective good of the state.
Pop culture conditions the public "mind" to accept images of senseless violence and uphold such conduct as the newly acceptable "norm."
(When 1 and 2 are combined) it serves the promulgation of the military-industrial complex by:

Upholding notions of American imperialism through force of conquest and forced integration (into the globalist "community") that runs contrary to the true policy of American exceptionalism via leading by example without military intervention
"Shaping the Shapers" – influencing members of the Congress through emotional channeling to pass legislation that favors the military industrial complex and the world government cabal
Levying of funds from the consumers: an endless source of taxable revenues in the form of intellectual property that bilks the disposable income from the pockets of the people, while propagandizing them toward acceptance of a militaristic-governmental-totalitarian society
Through "dramatic emotive configuring," placing everyone on a "war-footing," or (as with Orwell's 1984) utilizing the precept of a "continuous threat" (even when there is none) to channel the people's war-consciousness and have them blindly march into the battles subtly chosen by their handlers (it may be mentioned for other, nefarious purposes).

The psychological conditioning of the people and the culture to accept the planned events for the future in an "Overton Window" manner (to change the existing paradigm of conduct and perception).
All of that being mentioned, what can be done?  How can we use this to our advantage while not allowing it to influence character and morals?  This is the focus of concentration for the article.  The aforementioned factors were listed so that you, the reader, know that the author understands the true reasons behind the use of pop-culture as a tool of the establishment to force a mindset and behavior upon the people.
So what can we do?  This is the suggestion: use what they give to us as a means of forecasting, as a training tool, and as a form or reverse psychology to know their minds.
One of the most common complaints about "Zombie" movies that I have heard is based in legitimate concerns as outlined above: the use of such films to inure people to death on a large scale and thus "cheapen" human life, as well as condition the public to mass trauma/casualty scenarios.  But what of the movies themselves?  Let's examine a series, such as "The Walking Dead," dealing with a zombie-like virus that becomes extant throughout the world.  Just in case you don't have any of the discs from the first four seasons, they're available at Amazon.com if you're interested.
Take away the zombies.  What remains is that the episodes are a whole bunch of situational outlines that bear real relevance to survival situations we may face as a whole.  Forget the zombies!  You can substitute anything in their place and turn the apocalyptic disaster into something with a different cause, and the situations the characters in have relevance.  In these post-apocalyptic scenarios, the characters face the complete gamut of all such situations as plague mankind: marauding refugees bent on taking over their food and supplies, injuries, sickness, two rival men competing for the affections of one woman, children forced to act as adults, theft, murder, and all of the ailments and horrors that humanity can undergo.
Certainly many of you ascribe to the theory "a picture is worth a thousand words," right?  Well, here is something that can be utilized as a training tool for your survival and preparedness plans: scenarios found within films that can be used for discussion among your family or group.  There are reality shows, some of which have excellent problem-solving opportunities for you to watch and discuss to use within the venues that your family has available to them.  The series, "The Colony," was really groundbreaking for a situation involving a global viral pandemic.  The "colonists" were selected from a diverse group and placed into semi-controlled conditions with a host of different challenges to face in a grid-down societal collapse.
These films can all be used as training aids and planning resources.  Books are out there that contain the whole gamut of things just mentioned, such as "The Road," by McCarthy, or "Alas, Babylon" by Pat Frank.  They entail societal collapse and the hardships faced by the survivors in their day-to-day existences.  They present a window that allows you to "what if" situations and apply them to real life, as well as a "what if" regarding the overall disaster: could it happen, and what would we do to prepare for it?
Many of these potential resources can be utilized very productively.  Many of them have a deep basis in scientific facts and have been written by some truly brilliant minds.  An example of this is "I Am Legend," starring Will Smith, and one of the consultants for the film was none other than Nathan Wolfe, a brilliant virologist who runs a private "pandemic tracking" firm.  Who better to come up with a good apocalyptic film about a killer virus that decimates mankind?
In the next installment a list of specific resources will be provided and the different usages in training and preparedness outlined so that you the reader can take advantage of them with your family.  In the meantime consider what has been written here and keep in mind that you must win in life with the weapons you have or can make.  Pop culture was intended to stultify and enslave you, reducing you to the level of beeves.  How much sweeter is it than the establishment providing you with graphic training aids waiting out there to take advantage of in the pursuit of preparation and survival.  Until next time, keep reading and gathering all of the information you can, because the pursuit of knowledge is ongoing and critical in all we do.
This article may be republished or excerpted with proper attribution to the author and a link to www.SHTFplan.com.
---
Jeremiah Johnson is the Nom de plume of a retired Green Beret of the United States Army Special Forces (Airborne).  Mr. Johnson is also a Gunsmith, a Certified Master Herbalist, a Montana Master Food Preserver, and a graduate of the U.S. Army's SERE school (Survival Evasion Resistance Escape).  He lives in a cabin in the mountains of Western Montana with his wife and three cats. You can follow Jeremiah's regular writings at SHTFplan.com.
---
Related Reading:
A Green Beret's Guides To Survival and Preparedness (Full List)
Strategic Relocation: Strategies and Tips
A Green Beret's Guide To Low-Budget Home-Defense Techniques 101: "Early-Warning Systems and Fortifications"
A Green Beret's Guide To Low-Budget-Home-Defense Techniques 102: "Defensive Positions"